Whalers Way, Eyre Peninsula Travel Guide 2023
Why Whalers Way Is One Of The Best Attractions In South Australia
You can't travel to the Eyre Peninsula without making a trip to Whalers Way. This unique landscape is one of the most spectacular places in Australia and a must-do as part of South Australia road trip. Let's explore what makes Whalers Way so special.
What Is Whalers Way?
Whalers Way is a scenic coastal region located on the southern tip of Eyre Peninsula in South Australia. It is a private road that winds through a rugged and beautiful landscape, offering visitors stunning views of the coastline, sea cliffs, and diverse wildlife.
The road is approximately 15 kilometres long and takes visitors through a series of narrow and winding roads that lead to various lookout points, each providing a unique and breathtaking view of the coastline. Along the drive, visitors can also explore the rock formations and sea caves and rock pools that dot the coastline, walk along white sandy beaches, and observe abundant marine life, such as dolphins, seals, and sea birds.
Whalers Way was named after the whaling industry that was once active in the region during the 19th and early 20th centuries. Today, it is a popular tourist destination that attracts nature lovers, hikers, and anyone looking to experience the natural beauty of South Australia's coastline.
Who Owns Whalers Way?
Unlike most of the nature reserves in South Australia, Whalers Way is privately owned and operated. The Theakstone family has owned the 2600-hectare property with 14 kilometres of coastline that is Whalers Way since 1887. Compared to the other national parks run by Parks SA, the price is steep, the facilities are very average and the roads are not well maintained.
Traditional Owners Of Whalers Way
Indigenous Australians have inhabited this region for thousands of years and there are artifacts and evidence of the Nauo people living at Whalers Way. A cultural heritage investigation was completed as part of the approval process for the rocket launch site. Areas of mythological and archeological significance were discovered.
Recently the Nauo people have been connecting and sharing with Coffin Bay residents to grow an appreciation for their history and culture.
How To Get To Whalers Way?
Whalers Way is located on the southern tip of Eyre Peninsula in South Australia, Australia. The most convenient way to get there is by car, either by renting a car or by driving your own vehicle.
Whalers Way Permit
Before you arrive at Whalers Way you need to buy a permit. The 1-day permit is $40 and includes 1 night of camping. Additional nights can be added for $10.
Permits can be purchased online. The online price includes an online booking fee of $3.20 bringing the total to $43. 20. It is a pretty hefty fee for a one day entry but it is worth it. You will be emailed an access code to use to unlock the gate when you arrive. You can also buy a permit from the Port Lincoln Visitor Information Centre.
Driving To Whalers Way
From Port Lincoln, which is the nearest major town, Whalers Way is a 30-minute drive southwest to the entrance of the park.
Be wary of wildlife on the roads, especially at dawn and dusk. There are plenty of kangaroos and emus in this area.
Whalers Way is remote and phone and mobile data coverage is almost non-existent. Make sure your car is well equipped.
Renting A Car
If you are reaching Port Lincoln by plane, renting a car is the best way to make the most of your time in the region. There are multiple car rental companies that operate out of Port Lincoln. I recommend comparing and booking through RentalCars.com – the option they have to buy insurance is much cheaper than you will pay directly with the operator.
If you are renting a car make sure the rental car company allows the vehicle on unsealed roads if you may not be covered by their insurance.
Do you need a 4WD?
Whalers Way has unsealed roads that are subject to weather conditions suitable for 2WD & 4WD vehicles.
While a 4WD vehicle is not strictly required to access Whalers Way, it is recommended for optimal safety and enjoyment of the experience. The road can be quite rough and uneven, with steep inclines and declines in some areas, so a high-clearance vehicle is preferable.
Certain sections of the road may be closed during periods of heavy rain or other inclement weather, and a 4WD vehicle may be necessary to navigate the terrain safely.
I visited with an AWD vehicle which worked fine. Some of the roads would be very challenging with a 2WD and with no phone signal it's not an ideal place for something to go wrong.
Currently, the road to Red Banks beach is 4WD only.
Whalers Way Tours
If you are unable to drive yourself you can visit Whalers Way as part of a guided tour. They don't spend the full day at Whalers Way but will show you the highlights as well as some other highlights of the Eyre Peninsula.
Check prices and book your tour:
✅ Port Lincoln Full-day Exploration Tour
✅ Port Lincoln Day Tour: Eyre Peninsula
Where To Stay?
You can stay overnight at Whalers Way or choose to stay nearby and visit for the day.
Camping At Whalers Way
The permit you must purchase to enter the Whalers Way reserve includes 1 night of camping. Additional nights of camping can be purchased from the Visitor Information Centre for $10 per night.
The camping facilities at Whalers Way are basic, with no access to running water or electricity. Visitors should come prepared with all necessary supplies, including food, water, and appropriate camping gear.
This would be a fine place to camp if you are self-sufficient in a 4WD caravan but I chose not to camp here in a tent due to the lack of facilities. There is a long drop toilet but that is about it!
Stay In Port Lincoln
Port Lincoln is a great place to be based when exploring the Eyre Peninsula. There is a lot of accommodation available for all budgets but the summer months can get busy so book in advance. Budget Accommodation –
The Port Lincoln YHA is one of my favourite hostels I have ever stayed at. The owner is super lovely and keeps the facilities absolutely spotless. The kitchen is great and has everything you need to make yourself a meal and the beds and comfortable. I found it to be a friendly and social vibe and there is a brewery right next door to have a beer with your new friends.
✅ Check prices and book your stay at Port Lincoln YHA
A Comfortable Stay In Port Lincoln
Port Lincoln Hotel is a boutique hotel located in the heart of Port Lincoln, a coastal city in South Australia. With stunning views of Boston Bay, the hotel offers a range of comfortable rooms and suites, as well as dining and entertainment options.
The Marina Hotel is a great option for those looking for waterfront accommodation in Port Lincoln, with comfortable rooms, stunning views, and a range of dining and entertainment options.
Whalers Way Map
Finding a detailed and high-quality map of Whalers Way proved to be a fruitless task. This is the best I could find. In combination with Google Maps, you should be able to navigate to all the points of interest. You will probably be handed a printout of this when you pick up your permit but mine had the look of a document that has been photocopied too many times. Save this to your phone just incase.
Facilities At Whalers Way
Facitlies are very limited at Whalers Way. You will need to bring everything you need with you. There is a toilet which was clean and in good working order in the centre of the park.
Places Of Interest At Whalers Way
Here are some of the best places to see at Whalers Way. There are a few more spots that are not covered but it is hard to cover them all in a single day.
To see more photos visit the gallery
Theakstone Crevasse
The Theakstone Crevasse is a natural geological formation of a deep crack in the earth's crust that was formed by the erosion of the limestone bedrock by the forces of water and wind over millions of years. Walking along the edge of the crevasse which is around 10 metres high and peering down into its depths gives you a sense of the age of this coastline and the power of nature. The surrounding cliffs and rock formations are also impressive, and visitors are often awed by the dramatic scenery.
Red Banks & D'Anville Bay
This is the furthest thing to see from the entry point so we decided to start here and make our way back rather than stopping for everything and running out of time to see the entire coastline.
The Red Banks are named because of the striking red hue of the cliffs is due to the iron oxide present in the rock, which has been exposed to the elements over millions of years, creating a stunning contrast against the blue waters of the Southern Ocean.
At Red Banks, we spotted our first seal. There were around 15 of them lounging on the rocks and splashing in the water below.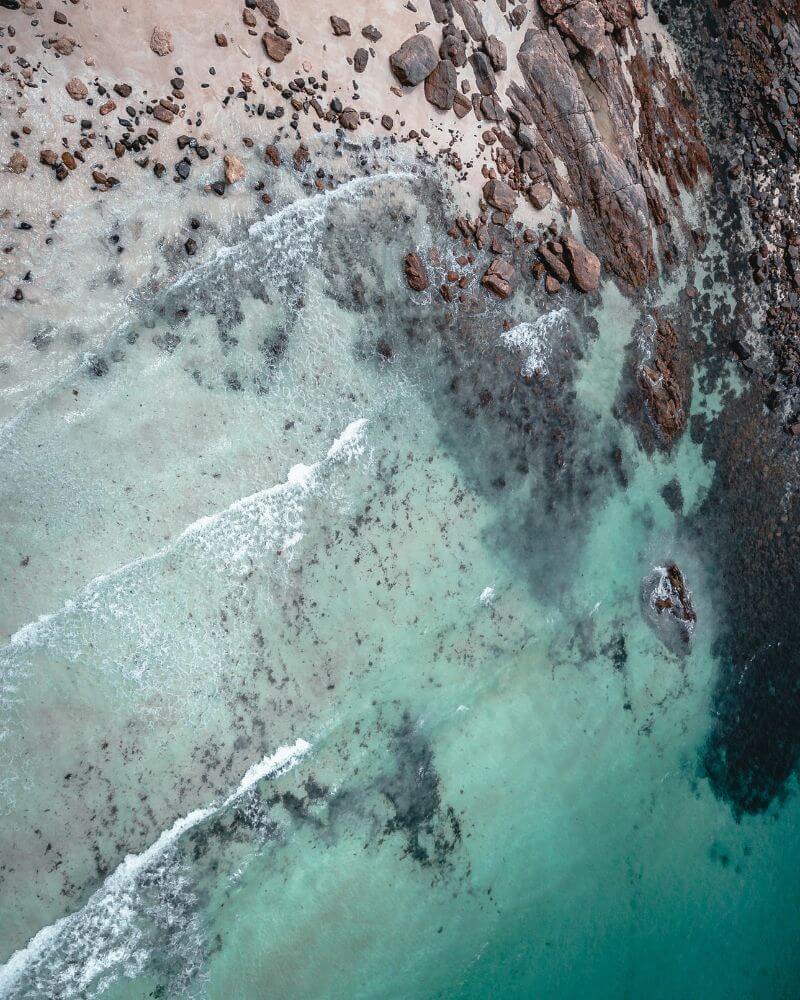 Harpoon Bay
Harpoon Bay is a double bay south of D'Anville Bay. You can park at the camping area and walk around the cliff tops to and climb down to the beach.
Cape Carnot
The rocks at Cape Carnot, the most southwesterly point on Eyre Peninsula, were once regarded as the oldest rocks in South Australia at 2.64 billion years, but the current record now goes to rocks 3.15 billion years old near Iron Knob. Source: Coastal Landscapes of South Australia
Regardless if they are not the oldest they are still very old and impressive!
Old Whalemans Grotto & Caves
The Old Whalemans Grotto is a rock overhang and caves. I ventured down to explore the rocks and caves and didn't realise it was too dangerous here but even near the caves freak waves can catch you unaware. I would be very hesistant to explore this area and especially with children.
Blowhole & Baleen Rockpool
At Cape Carnot you will find the impressive Blowhole, a natural geological formation that shoots water high into the air with a thunderous roar. Visitors can watch in awe as the waves crash into the cliff face and the water rushes into the blowhole, creating a spectacular display of nature's power.
The Baleen Rockpool is also here and it may look like the perfect place to swim but many people have drowned at this spot. Please do not go out onto the rocks or to the rockpool. Freak waves can wash unsuspecting visitors into the ocean.
Sinkhole
The Sinkhole is marked on the map but this inland feature is not as impressive as the coastline. If you are only spending one day here this is not a must-see.
Swimming Hole – Rock Pool
To reach this rockpool you will need to clamber down the dodgiest looking metal ladder you have ever seen. I am not vouching for the safety of the ladder or if it is even still there!
Blacks Lookout
This lookout is definitely worth stopping at. The views of the coastline from this vantage point are truly spectacular. Here you will also find the Humpbacks Blowhole although I didn't see any blowhole action when I visited, the Booby Gannet Crevasse is another beautiful example of how the weathering and erosion from the wind and waves has shaped this coastline.
Cape Wiles
As well as having impressive rock formations Cape Wiles is home to a thriving colony of Australian fur seals, which can be observed up close from a viewing platform at the edge of the cliff.
To access the seal colony, visitors can follow a walking trail from the car park, which takes them through rugged coastal scrubland and along the clifftops. From the viewing platform, visitors can watch as the seals lounge on the rocks, swim in the ocean, and play in the waves.
Safety At Whalers Way
Whalers Way is a remote location and visitors should come prepared with adequate supplies, including water, food, and appropriate clothing for the weather. The phone and internet service here was non-existent when I visited so hopefully it has improved but I would plan to be totally out of service.
Always be mindful of sea and weather conditions. Check the forecast for any adverse conditions – in addition, it's always a great idea to inform someone of your plans and when you will be returning.
Take extreme caution near the water and take heed of all signage.
Whalers Way Orbit Launch Complex
Despite it being a delicate ecosystem home to endangered species, Whalers Way is under threat from a major development proposal, currently being assessed by the South Australian government, to allow a private company, SouthernLaunch, to build and run a rocket launching facility within this sanctuary.
SouthernLaunch, a private, for-profit company based in Adelaide are planning to operate the Whalers Way Orbital Launch Complex and launch up to 42 rockets per year, weighing between 30 to 100 tonnes, to carry satellites and electronic surveillance equipment into space.
Locals and environmentalists are outraged and want to protect one this pristine piece of nature. To help the cause you can read up on the details and how the Eyre Pensinsual EPA – a group of dedicated locals committed to preserving and protecting the precious coastline of the Eyre Peninsula are taking action.
Conclusion – Whalers Way
Whalers Way is a must-visit destination for any nature and wildlife enthusiast. This secluded coastal reserve offers breathtaking views, serene beaches, and stunning cliff formations. With the likely chance of this area turning into a rocket launch zone I would encourage you to get out and appreciate this pristine location and support the locals in their fight against the project.
While you are on the Eyre Peninsula you won't want to miss the best beaches.on the EP.