Tayrona National Park
Northern Colombia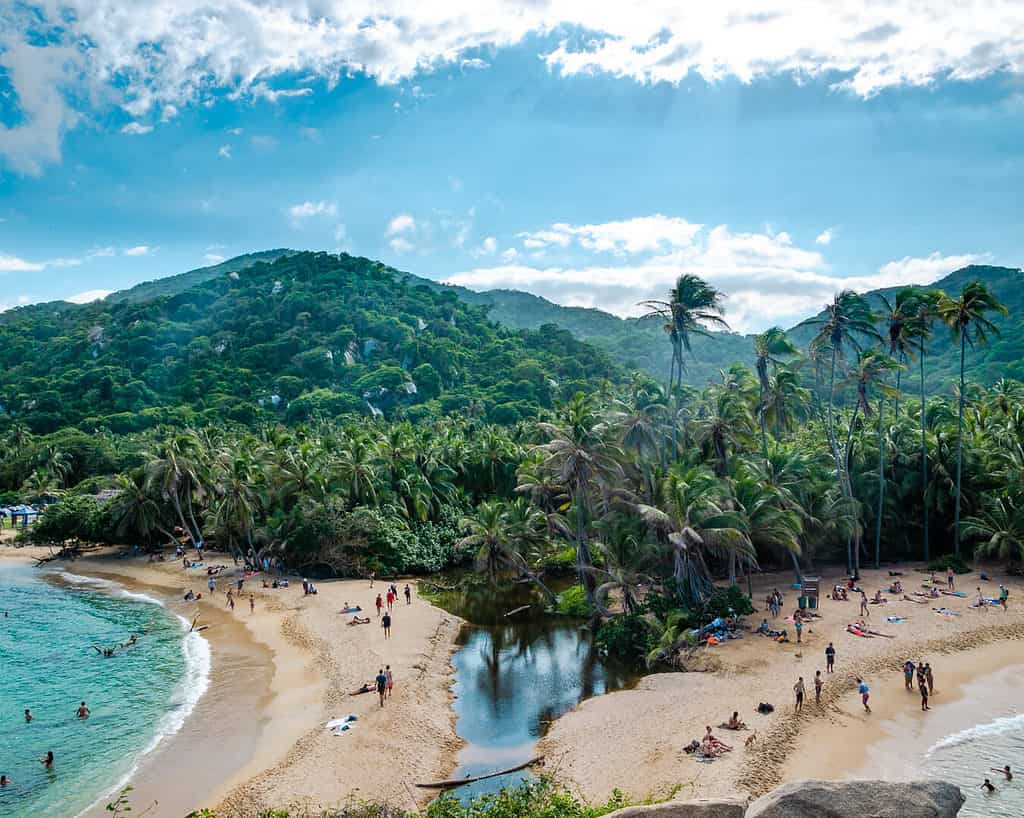 Tayrona National Park Travel Guide
Tayrona National Park or Parque Tayrona is found on the Caribbean coast in the North of Colombia. With lush jungle, bountiful wildlife and incredibly beautiful beaches, this is a dream destination for all nature lovers. Tayrona National Park is easily accessible from Santa Marta and is perfect for a day trip or an overnight adventure.
When to visit?
The park closes for a few times a year for conservation purposes and so the indigenous people can perform certain ceremonies. Please check and double-check that the park will be open when you plan your trip. It can be a bit tricky to find information regarding the dates online but as I understand it (as of Jan 2020) the park will be closed in 2020 on the following dates:
Feb 1st – 28th
June 1st – 15th
October 19th – November 2nd
December and January are when Colombians enjoy holidays and travel a lot. This is peak season so expect the park to be a lot busier and be sure to book ahead in these months.
Getting to Tayrona
Tayrona National Park is easy to access from Santa Marta, El Rio, Costeno Beach or Palamino or other places along the coast. The local buses run very regularly along the road from Santa Marta to Palomino at the cost of 10000 pesos. Any portion of the journey will be less, just let the bus driver know where you need to get off and he will let you know the price. I didn't go directly from Santa Marta to Tayrona but I believe it would be around 6000-7000 COP.

The prices I definitely know are:
Santa Marta – > El Rio = 8000 COP
El Rio – > Palomino = 3000 COP
El Rio – > Tayrona = 3000 COP
There are also tours and transport that are run from Santa Marta but the local bus is cheap and easy so it's an easy way to save money.
Entering the park
Bring your passport and plenty of cash. The passport is required for entry and you will need cash to pay for food, drinks and a place to sleep. You may be asked to have your bag checked on entry for prohibited items such as alcohol, drugs, plastic bags and knives.
Park hours are from 8:00 am to 5:00 pm. You are able to pre-book your park entry here: http://reservas.parquesnacionales.gov.co/
The amount of visitors per day is capped at 6900 per day so if you are visiting in peak season it is a good idea to book ahead.
When we arrived at El Zaino, the primary entrance, we were directed to pay 4000 COP for insurance. I wasn't sure I needed this, as I would already be covered by travel insurance, but they insisted it was mandatory. We then lined up to pay the park entry cost which was 63000 COP. They did have the option to pay with a credit card but I believe a surcharge would be incurred.
When you finally enter the park there is an optional bus for 3000 COP which will take you to the start of the hike. It isn't a very exciting walk and it's better to save your energy for enjoying the park so I would advise getting the bus.
Alternatively, you can enter from Calabazo which is the secondary entrance and hike a loop rather than coming back the same way. I believe the hike from Calabazo is a little more challenging but you will find less people on this route.
Enjoying the park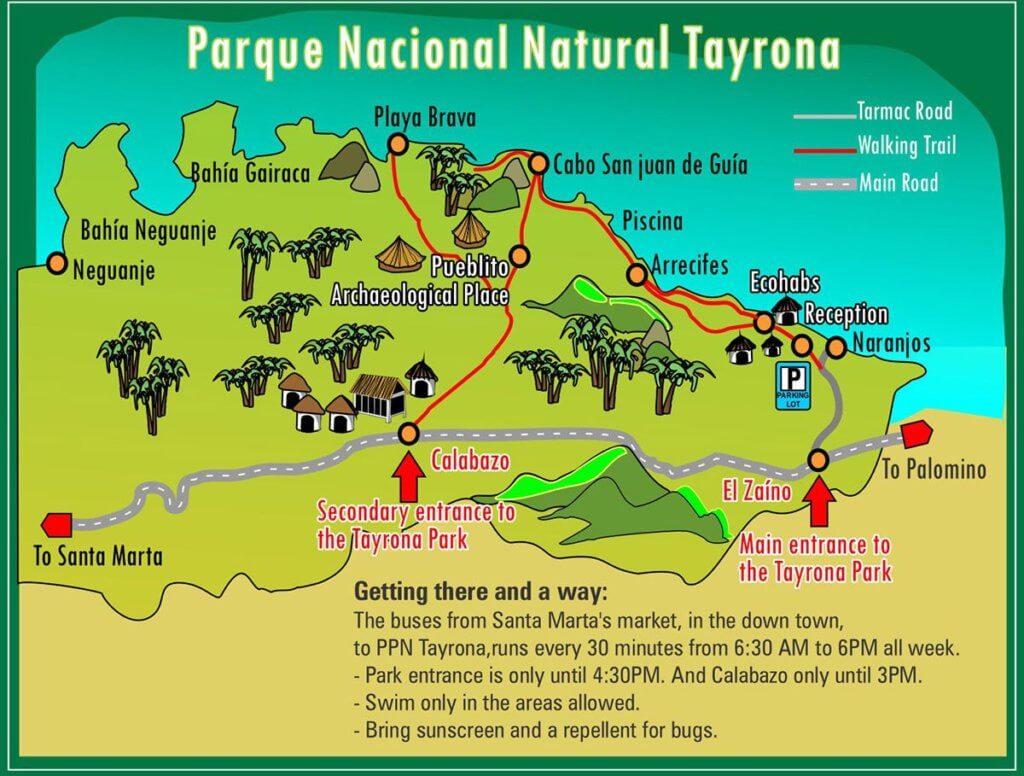 The hike to Cabo San Juan is around two hours but you will definitely want to stop along the way to take photos so allow plenty of time.
Swimming
Some of the beaches can be very dangerous so always read and obey the signs. There are many to choose from including a nudist beach just east of Cabo San Juan. My favourite was La Piscina.
Wildlife
Tayrona Park is made up of 12,000 terrestrial hectares and 3,000 marine hectares. It is one of the areas with the greatest diversity of species throughout Colombia and South America.
You may be lucky to spot some of the these:
Monkeys such as the Cotton-top Tamarin or the Colombian Red Howler monkeys are pretty common to see in the park.
Other mammals include anteaters, bats and deer.
From the reptile world, Caiman can be spotted in the rivers and sometimes even on the beaches as well as Iguanas, geckos and even the basilisk.
Jaguars, Pumas, Ocelots and other wild cats reside in Tayrona but it is unlikely to see them anywhere frequented by humans.
Birds such as the Cóndor, eagles, hummingbirds and parrots.
You can also take to the seas with a snorkel to see an array of marine life such as fish, crabs, eels, rays and turtles.
Check out the iNaturalist site for a list of plants and animals you can see in the park.
https://www.inaturalist.org/places/tayrona
Where to eat?
There are limited food options at Tayrona, especially for vegans. I ended up trying a vegetable rice dish with fries for 15000 COP. I asked if it was vegan contained any dairy, eggs and meat but can only hope they told me the correct information. Please double-check before you order.
If you are able to bring your own food in I would recommend doing so, depending on where you are coming from it might not be easy but bring as much as you can.
Bring plenty of water to reduce the need to buy too many plastic bottles. I did have to resort to buying water and they only had small bottles. It is a shame there is no option for refilling.
For 5000 COP, I did treat myself to a fresh young coconut for delicious hydration. I had my own straw with me so no plastic required.
On the hike to Cabo San Juan, I saw a sign for a vegan food outlet but the man selling the coconuts advised it was closed.
Where to stay?
It is possible to do Tayrona in one day. The park is open from 8 am to 5 pm so if you decide on a day trip I recommend entering as early as possible so you have plenty of time to hike in and relax at the various beaches.
I did a one day visit myself but grew to regret my choice when I was hiking out and the lighting was absolutely fantastic. To be able to enjoy golden hour, sunset and sunrise you need to stay overnight.
You can sleep in a hammock in the building on the little rocky outcrop between the two beaches. I can't think of a more beautiful spot to spend a night. There are a very limited number of hammocks and they can't be booked online so you will need to be quick to snag one. They can be booked at the entrance for 50000 COP.
Other hammocks are available at Cabo San Juan for 40000 and once again need to be booked once you arrive at the entrance. You can also stay in a tent close to the beach for 40000 COP.

If you are planning to stay in a hammock be sure to bring warm clothing and a blanket if possible as they aren't provided.
There are cheaper places to stay at other beaches within the park.
Check this site for a full list:
https://guidetotayronapark.com/where-to-sleep-in-tayrona-national-park-2019
Enjoy!
I wish you the best for your adventure to Tayrona. I was absolutely blown away by the beauty of this place. Please get in touch with comments or if you need any other information!