Perth To Adelaide: Flights, Roadtrips, & Travel Tips
Exploring Australia: A Traveller's Guide from Perth to Adelaide
Travelling from Perth to Adelaide is an exciting journey that takes you through some of Australia's most beautiful coastline. Whether you choose to fly, drive, tour bus or train, the trip offers plenty of opportunities for sightseeing, adventure, and relaxation.
Let's start by saying Australia is a HUGE country. The distances between cities, towns and attractions are a lot larger than in more densely populated countries. You can easily drive for hours in Australia without seeing another soul or even evidence of human life.
Travelling to remote regions is exciting but does require a bit of planning to ensure safety and a good experience. The distance between Perth and Adelaide is 2131 kilometres as the crow flies or 2695km by road.
Here we will explore the different transport options to travel from Perth to Adelaide to help you decide which one is right for you.
How To Get From Perth To Adelaide
Travelling from Perth in Western Australia to Adelaide in South Australia is a great way to explore the beauty of Australia. There are various ways to travel from Perth to Adelaide, depending on your budget and preferences. Whether you prefer air travel, road trips, or rail journeys, there are plenty of options available for you.
By Train
If you're looking for a truly unique way to travel from Perth to Adelaide, consider the Indian Pacific train. This luxury train service offers a once-in-a-lifetime experience that allows you to explore the stunning Australian outback in style. Named for the two oceans the train encounters on its journey, the Indian Pacific travels between Perth, Adelaide and Sydney on a spectacular 4352km crossing.
The journey from Perth to Adelaide takes around 3 days and 2 nights and includes all meals and beverages, as well as off-train excursions. You can also choose to continue all the way to Sydney
The Indian Pacific is up to 29 carriages long with 20 Platinum Service beds and 182 Gold Service beds crewed by a team of 30 staff. On board the train, you'll find comfortable cabins, lounge areas, and dining cars serving gourmet meals prepared with fresh, locally-sourced ingredients. You'll also have access to a range of onboard amenities, including a bar, library, and observation car with panoramic views of the passing scenery.
The Indian Pacific leaves Perth every Sunday at 10am and arrives in Adelaide at 7:45 am on Tuesday so the total travel time is around 46 hours.
The ticket prices vary depending on the time of year. Expect higher prices in the high season when the weather is more favourable.
High Season – September, October, November
Shoulder Season – January, February, March, April, May, August, December
Low Season – June and July
While the Indian Pacific is a premium service and can be quite expensive, it offers a truly unique and unforgettable way to travel from Perth to Adelaide.
✅ Check Out The Indian Pacific Train Adventure
By Bus
If you're looking to catch a bus to Perth, there are no A to B passenger buses that run directly. However, there are tour buses that offer a full travel experience of South Australia and Western Australia, including stops in Margaret River, Esperance, The Nullabour and the Eyre Peninsula. These tours typically offer a variety of activities and sightseeing opportunities, allowing you to explore the region in-depth. Just be aware that these tours may take longer than a direct bus and may have a higher cost, but they can be a great way to see more of the area.
Road 2 Adventure – 19-Day Guided Tour
Ready for an epic 19-day bus journey from Perth to Adelaide? The Road 2 Adventure guided tour offers an intimate, eight-person expedition, encompassing breathtaking landscapes, wildlife encounters, and thrilling adventures. You'll explore iconic locales like Busselton, Margaret River, Torndirrup National Park, Cape Le Grand National Park, and Flinders Ranges, among others.
On this tour, you'll enjoy comfortable bunk accommodations, group cooking sessions, and essential amenities including a hot shower and power points.
✅ Check Out The Road 2 Adventure Trip Here
By Road
The most adventurous way to travel from Perth to Adelaide is with your own four wheels. A DIY road trip that gives you the freedom and flexibility to stop and enjoy all the beautiful sights in Western Australia and South Australia.
Self-Guided Road Trip: A DIY road trip from Perth to Adelaide offers unparalleled flexibility and the freedom to enjoy Western Australia and South Australia at your own pace.
Renting a Vehicle For Your Road Trip
Car Rental: For a 10-day journey, expect to pay a minimum of $2600, excluding insurance and fuel. You can use services like RentalCars.com to compare prices from various rental companies.
Campervan Rental: Starting from around $1800 for a one-way journey, renting a campervan can be a cheaper and more versatile option as it also saves on accommodation costs.
Relocation Deal: Some rental companies offer reduced-price rentals in return for relocating a vehicle from one branch to another. Companies like Imoova or Transfercar.
Shared Bus Option: For a more communal experience, consider the self-guided 19-day minibus tour. At $988, this tour covers South West Australia, the Nullarbor, the Eyre Peninsula, and South Australia. The cost includes the shared rental of a minibus, trailer, and camping equipment.
✅ RentalCars.com is the best comparison site to compare the different rental car companies in one place.
By Air
Flying from Perth to Adelaide is easily the quickest and cheapest option. There are 3 airlines that run direct flights multiple times per day. The flight time is just under 3 hours but there is a 2.5-hour time difference between Western Australia and South Australia so you need to account for losing that time in your travel plans.
Airlines
Choosing to fly from Perth to Adelaide is a fast and convenient option, with the average journey time being just under three hours. However, remember there's a 2.5-hour time difference between Western Australia and South Australia, which may impact your itinerary. Several airlines operate this route regularly:
Qantas: Australia's largest airline offering multiple daily flights. Both direct and indirect flights are available.
Virgin Australia: Provides multiple daily flights with a journey time similar to Qantas.
Jetstar: A budget-friendly choice that operates several flights per week. Jetstar offers direct flights with an approximate journey time of 3 hours and 5 minutes.
If it is within your budget I recommend choosing Qantas or Virgin. Jetstar have great prices but the service is barely passable in my experience.
✅ Local Tip: Jetstar offer low prices but the costs can add up once you add baggage. Jetstar check bag weight at the airport quite frequently so don't overpack.
How To Compare Flights
My favourite tool to look at flights is Trip.com as it is SO much easier to compare how much baggage is included without having to click through multiple pages and enter details on each airline's website before getting a total price. You also have the option of paying a small fee to have a guaranteed refund if your plans change.
✅ Check Prices And Book Your Flights Here
Perth To Adelaide: FAQs
What is the cheapest way to get from Perth To Adelaide?
Flying is by far the cheapest way to get from Perth to Adelaide. With Jetstar flights starting from around $170 not including baggage getting between these two cities is pretty affordable.
What is the fastest way to get from Perth To Adelaide?
With direct flights from Perth to Adelaide taking just 2 hours & 50 minutes flying is the fastest way to cover the distance between Perth & Adelaide.
What is the distance from Perth To Adelaide?
The minimum driving distance is 2,695km which equals about 28 hours of driving but if you are taking the time to do this epic road trip you really want to take the scenic route along the coast which you should allow for at least 3723km (40 hours driving).
Is It Worth Driving From Perth to Adelaide?
Yes! This is a road trip of epic proportions! Driving across Western Australia and South Australia is a great adventure for those who enjoy road trips and exploring remote areas. However, it's important to consider the distance, time, cost, safety, and your personal preferences before deciding whether it's worth it for you.
Recommended Routes
Let's take a look at the most direct way between the two cities and our recommended itinerary if you have time to enjoy all of the incredible destinations along the Australian Southwest Coast.
The Quick Way
2695km (28 hours driving)
Day 1 Perth -> Norseman 7 hrs 45 mins – Great Western Motel Norseman
Day 2 Norseman -> Eucla 7 hrs 10 mins – Border Village Roadhouse
Day 3 Eucla -> Kimba 8 hrs 20 mins – Kimba Apartments
Day 4 Kimba -> Adelaide 5 hrs 7 mins – Majestic Minima Hotel
The quickest route by road from Perth to Adelaide is 2,695km which equals about 28 hours of driving. The minimum time I would recommend for the journey would be 4 days. You could technically make it quicker but driving huge distances each day is unsafe.
I would not advise driving for more than 10 hours in a day if you can help it and with the accommodation options limited along the way you need to make sure you can reach somewhere to get a good night's rest. If you are camping along the way you will have more flexibility with the route.
It is important to plan for rest stops and to ensure that the car is well-maintained before embarking on the journey. Safety precautions such as carrying enough water, a first aid kit, and spare tires are also recommended.
Cost approx: $1086
Accom $150 approx per night
Petrol: $486 (Based on 9 litres/100km and $2 per litre average for fuel).
✅ Local Tip: Check for the best petrol prices with the Petrol Spy tool.
The Scenic Way
3723km (40 hours driving)
Day 1 Perth -> Busselton
Day 2 Busselton -> Margaret River
Day 3 Margaret River -> Hamelin Bay
Day 4 Hamelin Bay -> Pemberton
Day 5 Pemberton -> Walpole
Day 6 Walpole -> Denmark
Day 7 Denmark -> Albany
Day 8 Albany
Day 9 Albany -> Bremer Bay
Day 10 Bremer Bay -> Esperance
Day 11 Esperance
Day 12: Esperance -> Norseman
Day 13: Norseman -> Eucla
Day 14: Eucla -> Ceduna
Day 15: Ceduna -> Streaky Bay
Day 16 Streaky Bay -> Elliston
Day 17 Elliston -> Coffin Bay
Day 19 Coffin Bay -> Port Lincoln
Day 18: Port Lincoln
Day 19 Port Lincoln-> Adelaide

If you are driving across these two great states you really want to take your time and enjoy exploring the stunning coastline of Australia. For the scenic route I would recommend a minimum of 10 days but 20 days or more would really be ideal to really appreciate all the sights, sounds and attractions. Whether it's visiting beaches, national parks or even wineries, there are plenty of things to do on this journey for everyone.
Scenic Route 19 nights: Cost approx: $3520
Accom $2850 – $150 approx per night
Petrol: $670 (Based on 9 litres/100km and $2 per litre average for fuel).
Things to note:
The kilometres calculated do not include extra driving when exploring different areas.
Petrol is very expensive in remote areas (close to $3 per litre).
Check the fuel economy of your vehicle for more accurate estimates.
There is not a lot of options for hostel dorm accommodation in many places.
Camping instead of paying for hotels will save you a lot of money.
Plan for rest stops and to ensure that the car is well-maintained before embarking on the journey.
Safety precautions such as carrying enough water, a first aid kit, and spare tires are also recommended.
Stops Along the Way
✔️ Stop Recommendation – Albany
On your journey, we recommend spending a couple of days in Albany. This charming coastal town offers visitors an array of activities and attractions, making it a must-visit destination in the region. Albany is known for its stunning natural beauty. With rugged coastlines, pristine beaches, and lush forests, it is a paradise for nature lovers. Visitors can hike along the many trails in the area, or take a scenic drive to enjoy the breathtaking views.
Albany has a rich history and is home to many heritage buildings and museums. The town was one of the first European settlements in Western Australia and played a significant role in the region's development. Visitors can learn about the local Indigenous culture and the town's colonial history by visiting the many museums and historical sites.
✔️ Stop Recommendation – Whalers Way
The Eyre Peninsula is located in South Australia and is known for its stunning coastal scenery, abundant wildlife, and unique attractions. One must-visit destination on the Eyre Peninsula is Whalers Way, a privately owned nature reserve offering breathtaking views of rugged cliffs, secluded beaches, and crystal-clear waters. Visitors can drive along the cliff tops and access various lookout points, including Cape Carnot – some of the oldest rocks in Australia.The area is also home to a diverse range of wildlife, including kangaroos, wallabies, emus, and a variety of bird species.
✅ Read the guide to the best beaches on the Eyre Peninsula
✔️Stop Recommendation – Lake McDonnell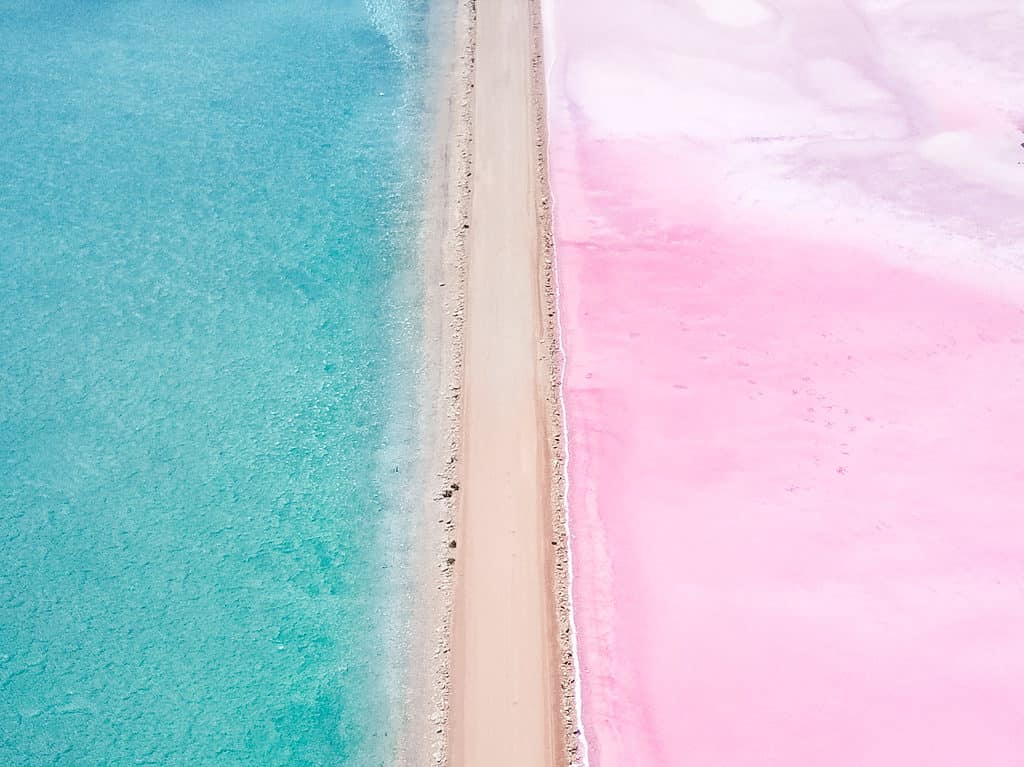 An unmissable highlight of the Eyre Peninsula is Lake MacDonnell, a vibrant pink salt lake located near the town of Penong. The lake's distinctive pink colour is due to the presence of algae and high salinity levels, which create a striking contrast against blue water on the opposite side of the road. This stretch of road has been named "watermelon alley" for it's distinctive pink and green hues.
Learn more about the pink lakes in South Australia.
Perth Accommodations
➡️ YHA Fremantle Prison – Fremantle
For a unique and budget-friendly experience in the charming Fremantle area, consider staying at the YHA Fremantle.
The Fremantle Prison YHA Hostel is a unique and fascinating place to stay for anyone visiting Perth. The hostel is located in the former women's division of Fremantle Prison, which dates back to the mid-19th century and is a UNESCO World Heritage Site.
As a former prison, the building is steeped in history and the accommodation has been converted to provide guests with a comfortable and unique stay. The cells have been transformed into private rooms and dorms, and some even feature original cell doors. The communal areas are decorated with prison-related memorabilia and artifacts, providing an immersive experience for guests.
Aside from its historical significance, the Fremantle Prison YHA Hostel also offers modern amenities and facilities. The hostel has a fully equipped kitchen, a BBQ area, a TV lounge, and a tour desk where guests can book tours of the prison and other local attractions.
Staying at the Fremantle Prison YHA Hostel provides a unique opportunity to experience the rich history of Western Australia while enjoying modern comforts. It's a great choice for an affordable and memorable place to stay in Fremantle.
➡️ Peninsula Riverside Serviced Apartments – South Perth
The Peninsula Riverside Serviced Apartments in South Perth is a luxurious accommodation option that offers stunning views of the Swan River and Perth City skyline. The apartments are located in a peaceful and tranquil area, yet only a short ferry ride from the hustle and bustle of Perth CBD.
The apartments are fully equipped with modern amenities, including a full kitchen, laundry facilities, access to a gym, sauna, and an outdoor swimming pool. South Perth is a great place to stay that is close to Perth's best attractions in a picturesque riverside location.
Adelaide Accommodations
➡️ YHA Adelaide – Adelaide CBD
YHA Adelaide Central is a hostel located in the heart of Adelaide's CBD, just a few minutes walk from the bustling Central Market and the free city tram. The hostel offers a range of accommodation options, including private rooms and shared dorms, all equipped with air conditioning, heating, and personal lockers.
The hostel also provides free Wi-Fi, 24-hour reception, and a communal kitchen, dining area, and lounge. Additionally, there is a rooftop terrace with stunning views of the city, perfect for relaxing and socializing.
One of the standout features of YHA Adelaide Central is its commitment to sustainability. The hostel has implemented various eco-friendly measures, such as recycling, composting, and using solar energy.
➡️ The Mayfair Hotel in Adelaide – Adelaide CBD
The Mayfair Hotel is a luxurious and stylish hotel located in the heart of the city. Overlooking Rundle Mall and set within a heritage-listed building, the hotel offers guests an elegant and sophisticated experience. The hotel boasts a restaurant and lounge bar serving delicious cuisine made with locally sourced produce, and a selection of South Australian wines.
Conclusion: Perth To Adelaide
Travelling from Perth to Adelaide offers a unique opportunity to explore the natural beauty of Western and Southern Australia. From the stunning beaches and rugged coastline of the South West region to the vast expanse of the Nullarbor Plain and the rich cultural experiences of Adelaide, this journey has something for everyone.
Whether you choose to take a guided tour, rent a vehicle or drive yourself, there are plenty of options available to suit all budgets and preferences. And with so many amazing sights and attractions along the way, you're sure to create unforgettable memories that will last a lifetime.
So, pack your bags, hit the open road, and get ready to discover the hidden treasures of Australia's west and south coast. Whether you're a nature lover, adventure seeker, or culture enthusiast, this road trip is guaranteed to be an unforgettable experience.