Moalboal To Panglao – Ferry From Oslob To Bohol
Moalboal Beach -> Moalboal Town Centre -> Bato -> Oslob -> Momo Beach -> Alona Beach
Moalboal & Alona Beach are two of the best places to visit in the Philippines but getting between them is a little tricky. Rather than backtrack to Cebu City there is a way to get from Moalboal to Panglao by taking the ferry from Oslob to Momo Beach. This ferry only runs once a day at 11:30 am so making this ferry requires a very early start in Moalboal but it is possible to do in one day. Leaving the beach area at 6:45 am should allow enough time to get to Oslob as you want to arrive at least an hour before the departure time of 11:30 am.
How To Get From Moalboal To Bohol
Your journey from Moalboal to Bohol will be largely influenced by your destination on the island. Bohol is known for its stunning landscapes and diverse activities, with popular destinations including Tagbilaran City, Panglao Island, Anda, and the Chocolate Hills. Each of these spots offers unique attractions that draw in countless visitors every year.
There are ferries from Cebu from Mactac to Tagbilaran City or a lesser known option is to catch the ferry from Oslob to Momo Beach on the island of Panglao. This is a better option for people staying at Alona Beach or anywhere else on Panglao as you avoid travelling to Cebu City to Mactan.
Moalboal To Alona Beach – Via Oslob Ferry
This guide will take you through the steps of how to get from Moalboal to Alona Beach via Oslob. The journey takes around 7 hours. If you think this is the right route for you, let's get started!
Book Your Ferry Ticket
Before you start your journey the part that you want to prebook is the ferry from Oslob to Momo Beach. All other transport is easy to buy on the day.
Moalboal Beach To Moalboal Town Centre
Step one of your journey from Moalboal to Alona Beach is to get from the waterfront area where the hotels & hostels are, to the centre of town. The bus stops just down from 7-Eleven which is around 3 – 3.5km depending on where you stay in Moalboal (the best hostels are Chief Mau, 3 Bears & Moho). There is no shortage of motor tricycle drivers in Moalboal ready to give you a ride. They will try to up the price if they can get away with it so don't be afraid to haggle and ask around. The ride is cheaper if you are splitting with people but I paid 150 pesos for just me and my bag to get to the town centre.
Moalboal To Bato
The bus stop for the Moalboal to Bato bus was not marked when I was there but the tricycle drivers know where it is and the exact spot is here on Google Maps.
I couldn't find much in the way of a timetable or schedules for the buses but after talking to the locals I found out the buses start arriving around 5am. It seems that they take off from Cebu when the bus is full but the wait time shouldn't be more than 30 minutes.
I arrived at the bus stop at about 6:50 and a bus showed up at 7am. You may want to arrive at the stop even earlier is you want a bit more room for error.
The bus from Moalboal to Bato takes about 1.5 – 2 hours and I was charged 112 pesos. You get a ticket and the bus attendant punches holes into it but I couldn't figure out how it quite worked.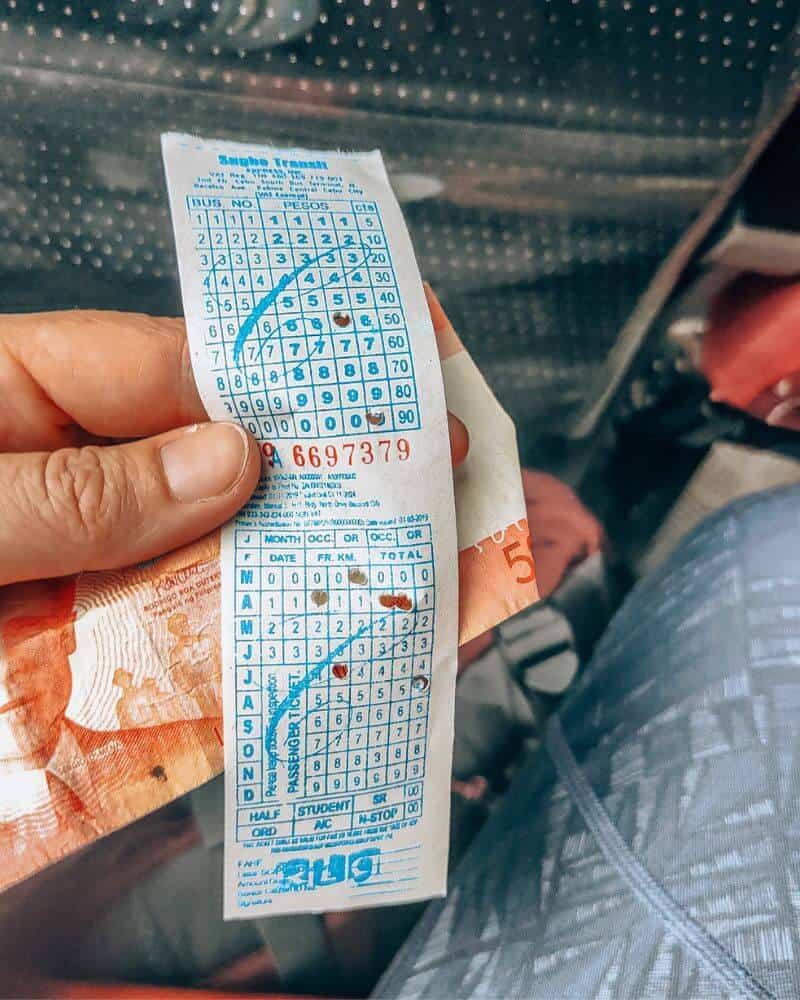 Bato To Oslob
The next leg of the bus journey is super simple. The terminal you get dropped off is the same place the Bato to Oslob bus leaves from. I waited around 10 minutes before I was able to leave on the bus to Oslob. This part of the journey cost 6
How To Get To The Ferry Terminal In Oslob
I use the words "ferry terminal" very loosely here because there isn't any infrastructure and the ferry takes off from the beach. When you arrive in Oslob you will be dropped on the main road. There is a 7-Eleven a few hundred metres up the road so if you have time to stop for snacks this is a good place to do so.
The walk from the main road to where the ferry departs is short and takes you past a few interesting buildings so walk if you like or if you have lots of luggage a tricycle would be an option too. I would not imagine it would cost more than 100 pesos but I didn't choose this option.
Here is the route from the bus drop point to the ferry terminal.
Oslob To Panglao Ferry (Momo Beach)
Here comes the fun part! Boarding the ferry! Once you arrive at the terminal you can show your ticket and write your name on a form. Passengers are loaded onto the ferry by a smaller boat from the beach. It takes a few trips to get everyone on board so boarding starts boarding a little after 10am.
The ferry is run by Apekop Travel once per day at 11:30am from Oslob and arrives at Momo Beach at 1:00pm.
Information About The Journey From Oslob To Panglao
The ferry runs daily from Quartel Beach at Oslob to Momo Beach on Panglao Island. The vessel is a high-speed banca that runs beach to beach. A small transit boat assists boarding but expect to get your feet wet when loading and unloading from the beach.
The journey is around 1.5 hours and is a pleasant ride. There was a kid who offered to sell me chips and drinks on board but you can also bring your own.
How To Book The Ferry From Oslob To Panglao
You can book directly with Apekop but I found the price to be cheaper with Klook and with more reassurance of a refund if something goes wrong. You can also book through 12Go but I found Klook to offer the best price of around $17.50 USD which is better than booking directy with the Apekop for 1000 pesos.
It is possible to turn up and buy a ticket on the day for 1000 pesos but there is no guarantee the boat won't be fully booked so I advise to buy your ticket online in advance. Arrive at a minimum 30 minutes before departure but 60 or minutes is better as I had heard it may leave early if it fills up.
Momo Beach To Alona Beach
Arriving at Momo Beach involves everyone loading into the transit boat getting nice and wet unloading on the beach.
The crew take a few minutes to bring everyone luggage safely to the beach and then passengers make there way to the awaiting Jeepney which costs 100 pesos per person for a ride to Alona Beach.
The driver will drop you at your accommodation in Alona Beach. If you are looking for somewhere to stay the Moon's Fool Hostel is the best in town or for a party vibe you can't beat Mad Monkey Panglao.
Time & Cost Moalboal to Alona Beach
| | | | |
| --- | --- | --- | --- |
| Time | Location | Mode | Cost |
| 6:45am | Moalboal Beach to Moalboal Town Centre | Tricycle | 150 |
| 7:00am | Moalboal Town Centre to Bato | Bus | 112 |
| 9:00am | Bato to Oslob | Bus | 60 |
| 10:00am | Oslob Main Road To Ferry Terminal Quartel Beach | Walk | 0 |
| 10:20am | Ferry boarding begins | Transit Boat | 0 |
| 11:30am | Ferry from Oslob to Momo Beach | Ferry | 950 |
| 1:00pm | Jeepney from Momo Beach to Alona Beach, Panglao | Jeepney | 100 |
Total Travel Time: 6 hours 45 minutes
Total Travel Cost: 1372 pesos (approx USD $25.20 or AUD $35.45)
Moalboal To Panglao FAQ
How much is the ferry from Oslob to Panglao?
The ferry is around $17.35 USD or 950 pesos when booked online in advance.
Is Moalboal worth visiting?
Yes! The sardine run and the canyoneering make this a destination not to miss in the Philippines.
Is Panglao worth visiting?
Yes! Panglao is a beautiful place to spend a few days relaxing. With stunning white sand beaches, world-class diving and a bumping beach bar scene this is definitely one to add to your list for the Philippines.
How long does it take to travel from Moalboal to Alona Beach?
The total travel time is around 6.5 – 7 hours.
Is it safe to travel alone in the Philippines?
Yes and no. It depends on the choices you make to be aware of your surroundings and keep yourself safe and a bit of luck. Some areas in Manila are known to be dangerous but the tourist destinations are considered reasonably safe.
How often do the buses go from Moalboal?
The buses run approximately every 30 minutes but don't run on a strict schedule rather leaving Cebu when they are full so it can vary.
Do I need to book in advance to travel from Moalboal to Panglao?
It is recommended! You might be able to buy a ferry ticket on the day but they sometimes sell out!
Conclusion – Moalboal To Panglao Travel Guide
We hope you find this post useful in planning your travels in the Philippines. The option to travel from Moalboal to Bohol via Oslob rather than returning to Cebu City is the best way I found to save time and money.
If you have any questions or want to update me with anything that isn't correct please get in touch! Safe travels & enjoy your time in the Philippines.