Lake Macdonnell Travel Guide – Pink Lake
Lake MacDonnell's Alluring Pink Lake: An Essential Destination in South Australia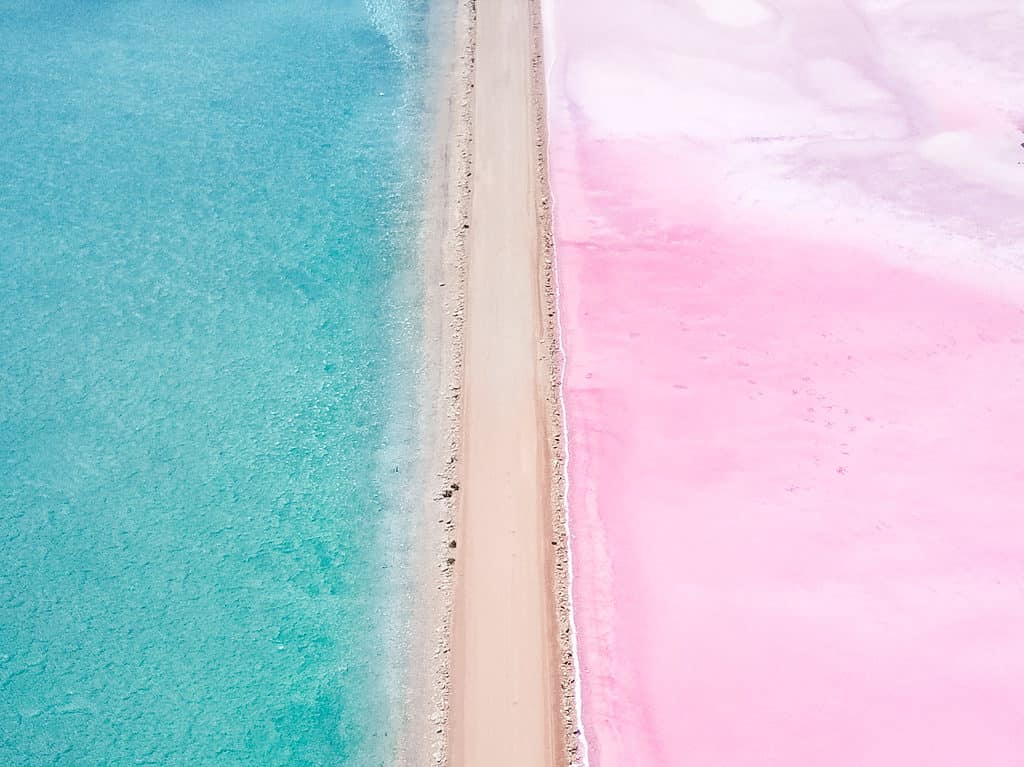 Lake MacDonnell, with its dazzling display of pink hues, stands as one of the most iconic destinations in South Australia. More than just a visual marvel, reaching this distinctive attraction is an adventure in itself, being located a considerable 9-hour and 21-minute drive (863.0 km) from Adelaide.
The journey, although demanding, is well worth the effort, especially for photographers and adventure enthusiasts like myself. I was filled with anticipation as I headed to this unique location, eager to capture its magnificence through my lens and, especially, from the skies with my drone. The view from the air is awe-inspiring, yet the ground perspective also offers plenty to admire.
Beyond the pink wonder that is Lake MacDonnell, the Eyre Peninsula boasts a wealth of breathtaking sights, making a trip to South Australia's west coast an unmissable addition to your travel itinerary. Whether you're an experienced explorer or someone looking to venture off the beaten path, here's all the information you need to plan your unforgettable visit to Lake MacDonnell.
Where is Lake MacDonnell?
Lake MacDonnell is situated on the western edge of the Eyre Peninsula in South Australia. Positioned near the small town of Penong, it's roughly 9 hours and 21 minutes (863.0 km) drive from the state's capital, Adelaide. The lake's remote location makes it a somewhat challenging destination to reach, but the reward is a breathtaking view that's unique to this part of Australia.
Traditional Owners of Lake MacDonnell SA
The Wirangu people are the traditional owners of the coast between Head of Bight (White Well), Cape Blanche, and Streaky Bay; inland to Ooldea, Kokatha, and Kondoolka.
I don't know of any specific information about the connection of Aboriginal people to the lake but the region was colonised and there were conflicts around Ellistion where a lot of Indigenous people were killed or driven from the land. Recently over 5000 square kilometres of native title land has been granted to the Wirangu people around Streaky Bay.
Lake Macdonnell is named after Richard Graves Macdonnell who deserves no air time. I hope this incredible place will be changed to the traditional name as is happening in other parts of the country and the precolonial history is told.
How To Get To Lake MacDonnell – Directions
Lake MacDonnell, South Australia's mesmerizing pink lake, is a destination worth every mile travelled. Here's a guide to making your journey, whether you're coming from Adelaide, Penong, or even Perth.
Lake MacDonnell From Adelaide
The distance from Adelaide to Lake MacDonnell is approximately 863.0 kilometres, with a driving time around 9 hours and 21 minutes. Renting a car will allow you the freedom to take the scenic route along the Eyre Peninsula and explore other nearby attractions.
Penong To Lake MacDonnell
Penong is the closest town to Lake MacDonnell so once you have reached this tiny township, the journey from Penong to Lake MacDonnell is relatively short, covering a distance of about 14.6 kilometres and taking roughly 15 minutes to drive. The road is unsealed but is regularly maintained and suitable for all cars.
Perth To Adelaide – The Ultimate Roadtrip
If you're looking to make a grand adventure of it, why not consider a road trip from Perth to Adelaide? Lake MacDonnell is a great stop on the way! This is an epic journey covering thousands of kilometres, but the sights along the way are absolutely worth it.
Fly To Ceduna + Rent A Car
If you want to cut down on the driving time, you can fly to Ceduna and rent a car from there. The distance from Ceduna to Lake MacDonnell is roughly 88.7 kilometres, which takes about 1 hour and 5 minutes to drive. You can compare different rental car companies at Ceduna through RentalCars.com.
Vehicle recommendations: Is a 4WD necessary?
A 4WD or AWD isn't strictly required to reach Lake MacDonnell, but it does provide extra comfort and peace of mind, especially if you plan to explore more rugged areas of the Eyre Peninsula.
2WD Vehicles: Sufficient for the journey, especially during the dry season.
4WD/AWD Vehicles: Recommended if you plan on off-road adventures or if you want added security on the unsealed road leading to the lake.
Remember to always check local weather and road conditions, as circumstances can change rapidly, especially in more isolated areas like Lake MacDonnell.
Here is a large puddle we found on our travels when exploring near the sand dunes.
Watermelon Avenue – What Makes Lake MacDonnell Special?
Lake MacDonnell, with its vibrant pink hues, is more than just a pretty sight; it's an iconic South Australian natural wonder. Known as Watermelon Avenue due to the contrasting pink and green colours of the lake with a road right through the middle. This remote location is a magnet for photographers, tourists, and nature enthusiasts. The unique colouration and surrounding landscapes make this lake a must-visit destination on South Australia's west coast.
Why Is Lake MacDonnell Pink?
Lake MacDonnell's pink colour is due to the presence of Dunaliella salina, a type of microalgae that produces a red pigment called beta-carotene. This pigment is produced to protect itself from intense sunlight in the saltwater environment.
Halophilic bacteria also thrive in this saline lake and produce red pigments. Together, these factors give Lake MacDonnell its famous pink hue, similar to the colours found in certain flowers and vegetables and even flamingos!
What To Expect When Visiting
Visiting Lake MacDonnell, one of South Australia's most iconic pink lakes, is an awe-inspiring experience that varies throughout the year with the intensity of its pink colour. While it's a popular tourist stop and offers incredible photo opportunities, it's important to know that there are no visitor facilities available at the lake.
Since there are no public amenities, official rest stops, or car parks, visitors must be cautious and responsible. Port Sinclair Road, a local road commonly used by locals and surfers to reach Cactus Beach, leads to the lake, so always be mindful of other vehicles and people.
Pull over only where and when it's safe, and avoid blocking the road. The absence of facilities means that you should come prepared with everything you need for your visit, including taking care of any rubbish. The environment around Lake MacDonnell is exceptionally fragile, and preserving its natural beauty is essential. Be sure to leave no trace, keeping the area exactly how you found it.
Bring your camera and be prepared for a remote and unforgettable experience!
Can you swim in Lake MacDonnell South Australia?
While Lake MacDonnell's water is not toxic, it is highly saline. Swimming is possible, but not recommended as there is nowhere to rinse the salt off and it can be very harsh on your skin. The salty deposits can be sharp so stepping on them can cause damage to your skin and the environment.
If you want to go swimming there is an enclosed swimming area at Point Sinclair less than 10km away.
When Is The Best Time to Visit Lake MacDonnell
You can visit at any time of year but conditions in the middle of winter or summer can be harsh. As the road is gravel, rainfall can change the conditions so keep an eye on the weather forecasts when you are planning your visit.
I would recommend visiting in Spring because the lake should have plenty of water if it has rained and you should have a good chance of getting sunshine.
Picking a sunny day to visit gives you the best chance of vibrant pink tones. Travelling to remote places in the middle of summer can be dangerous if you are unprepared. December to Feb are the hottest months. Take lots of water with you and avoid being outside during the middle of the day for extended periods.
Is Lake MacDonnell pink all year round?
No, the colour of the lake can change from blue to white to pink.
Choosing when pink lakes will be their most vibrant is not an exact science. The pink hue is affected by weather, when the lake dries out the colour is almost white. Fresh rainfall can make the lake appear pinker.
✅ Top Tip – Look at the reviews on Google Maps and sort by newest first and read the most recent submissions. People often comment about the colour and upload photos too. There are two spots on Google Maps. Check out Point Sinclair Pink Lake or Lake Macdonnell here. Check both to find out what to expect.
Lake MacDonnell Unedited
Is Lake MacDonnell really pink? Yes, the lake is really pink! The exact shade varies and most photos you see including mine have been edited to enhance the colours. Here is an unedited photo vs the edit.

Staying near Lake MacDonnell
Camping At Cactus Beach
Cactus Beach Campsite near Lake MacDonnell offers a distinctive camping experience right next to the renowned Cactus Beach in the dunes. This private, dog-friendly campground is accessible to all vehicles, providing not just stunning ocean views and unique surf conditions, but also impressive facilities.
The cost is $25 a night for a campsite (cash only), and the campsite includes amenities like toilets, hot and cold running water, daily rubbish collection, and timber walkways to the beach. This low-cost campground could be an ideal spot to set up a base during your visit to Lake MacDonnell.
Stay In Ceduna
If camping isn't your style, the town of Ceduna offers a variety of comfortable accommodation options to suit all budgets and preferences. Just an hour's drive from Lake MacDonnell, Ceduna is a convenient base for your visit.
Ceduna Foreshore Caravan Park: Top-rated for its amenities and picturesque surroundings, this caravan park offers a perfect blend of comfort and nature's beauty.
Ceduna Foreshore Hotel Motel: Located at a great spot with easy access to the beach and local attractions, this hotel motel provides a luxurious stay with all the conveniences you might need.
A1 Cabins: If you're looking for a budget-friendly option without compromising on quality, A1 Cabins could be the ideal choice for you. It's the cheapest option in the area, offering cozy cabins with essential facilities.

Other Things To Do In The Area
Check out the sand dunes: The nearby landscape is adorned with vast sand dunes that stretch back from Long Beach. These impressive natural formations are accessible not only from the beach but also near Lake MacDonnell itself, offering another fascinating aspect to explore. Towering and windswept, the sand dunes create a surreal desert-like environment right next to the coastal beauty.
Cactus Beach: Famous among surfers for its powerful waves, Cactus Beach is a must-visit for surf enthusiasts or those who just want to enjoy the stunning views of the waves crashing against the shore.
Penong Windmill Museum: Step into the history of the region at the Penong Windmill Museum. This charming museum showcases an array of historic windmills, offering insight into the agricultural heritage of the area.
Ceduna Art Gallery: A cultural treat in Ceduna, this art gallery exhibits a splendid collection of Indigenous and local artworks. It's an excellent place to understand the local culture and maybe even take home a piece of it.
Point Sinclair: A hidden gem known for its pristine beaches and unique rock formations, Point Sinclair offers opportunities for fishing, surfing, and soaking in the natural beauty of the rugged coastline.
More Pink Lakes in South Australia
While Lake MacDonnell is undoubtedly a captivating sight, South Australia is home to other stunning pink lakes that are equally worth exploring. Each lake has its unique charm and offers various photo opportunities for nature enthusiasts.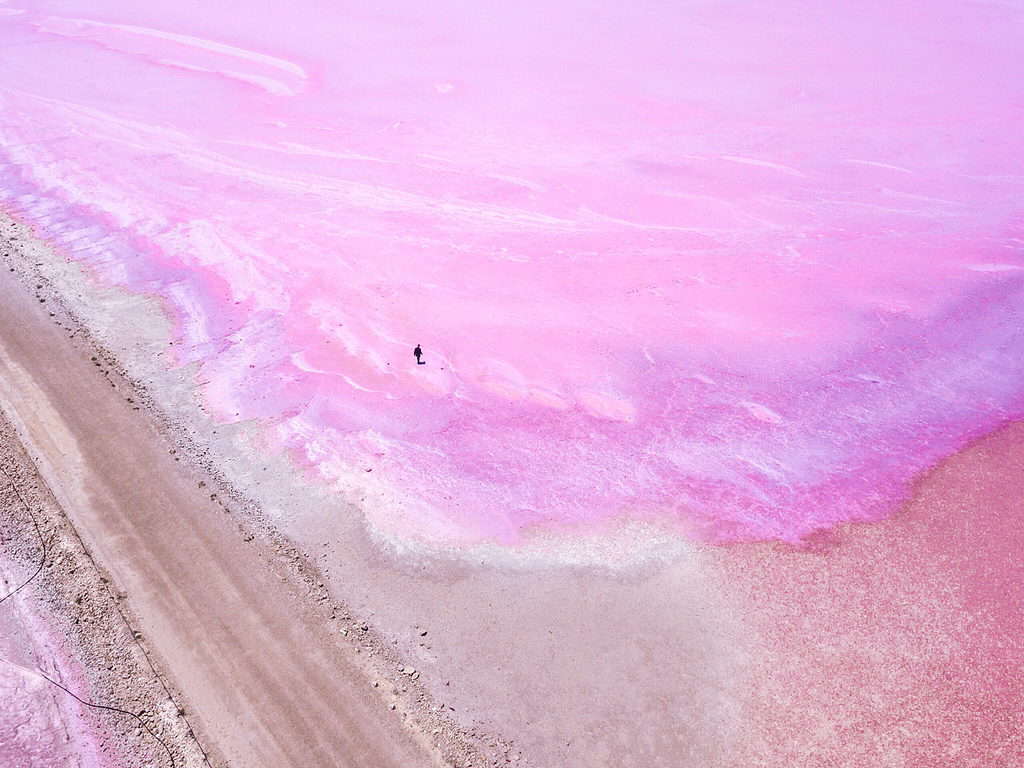 Lake Bumbunga: Located near the town of Lochiel, Lake Bumbunga's striking pink hue varies in intensity throughout the year. It's a popular spot for photography and a short drive from Adelaide, making it an accessible destination for a day trip.
Yorketown Pink Lake: Situated near Yorketown on the Yorke Peninsula, this pink lake offers a serene and relatively secluded setting.
These enchanting pink lakes, with their unusual colours and natural beauty, provide a unique experience in South Australia's diverse landscape. If you're interested in exploring more pink lakes in the region, don't miss our comprehensive guide to South Australia's pink lakes, where you'll find detailed information on these and other remarkable sites.