South Australia's Pink Lake Bumbunga
Lake Bumbunga: An Insider's Guide to South Australia's Spectacular Pink Lake
As a local South Australian and nature enthusiast, I've been drawn to the extraordinary beauty of Lake Bumbunga countless times. Its unique pink hue creates a spectacle that is equally intriguing to visitors and locals. In this blog post, I'll share with you the science behind this natural wonder, insights on the best time to visit, and practical tips to reach Lake Bumbunga. So if you're a traveller setting your sights on South Australia, let this be your comprehensive guide to one of our most mesmerising attractions.
The Green Adventurers acknowledge and pay respect to the Kaurna people as the custodians of the lands and waters of the Adelaide region. We pay respect to elders both past, and present future Traditional Custodians and Elders of this nation and the continuation of cultural, spiritual and educational practices of Aboriginal and Torres Strait Islander peoples. We acknowledge and respect the Kaurna people's cultural, spiritual, physical and emotional connection with their land, waters and community.
All About Lake Bumbunga
Do you want to see one of South Australia's most interesting natural phenomena? Here's all you need to know to plan your adventure.
What Is Lake Bumbunga?
Lake Bumbunga is a remarkable natural wonder located in South Australia, known for its striking, ever-changing colours. This large salt lake is most famous for its unique pink hue, earning it the name 'Pink Lake'. However, depending on the salinity levels and the time of the year, the lake can also shift in colour from white to blue.
Why Is Lake Bumbunga Pink?
The lake's signature pink colour is attributed to a type of algae known as Dunaliella salina. This microscopic organism thrives in high-salinity environments like Lake Bumbunga. When conditions are right, notably when the lake's water evaporates over the warmer months, salinity levels increase. This shift creates an optimal environment for the algae to proliferate.
The Dunaliella salina algae is rich in beta-carotene, a red-orange pigment found in many plants and fruits. It's the same pigment that gives carrots their orange colour. As the algae's population explodes, the concentration of beta-carotene intensifies, giving the lake a pink appearance.
Another contributor to Lake Bumbunga's pink hue are halophilic bacteria, which, like the Dunaliella salina, also thrive in high salt conditions. The combination of these organisms and the interplay of sunlight and weather conditions can result in the enchanting spectacle of a pink lake.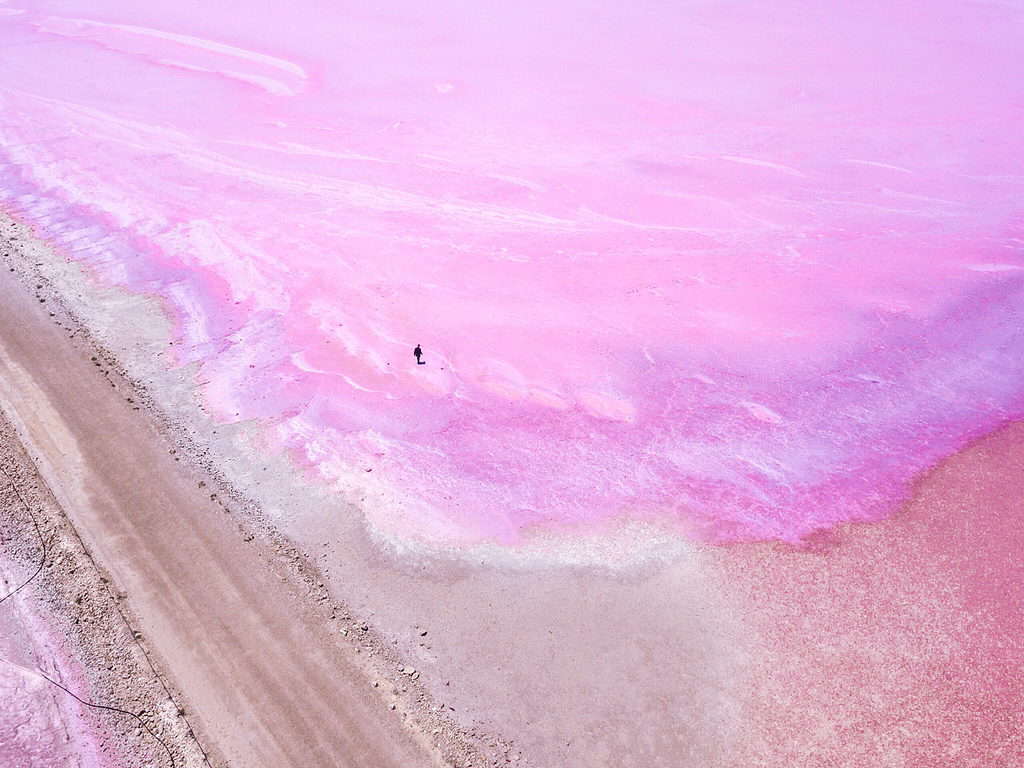 How To Get To Lake Bumbunga
Lake Bumbunga is situated in Lochiel, South Australia. From Adelaide, it's approximately a two-hour drive to the north, making it a feasible day trip destination. For those staying in Clare Valley, a notable wine region of South Australia, the journey to Lake Bumbunga is slightly shorter, taking around one hour by car.
Driving To Lake Bumbunga
The best way to get to Lake Bumbunga is to drive. If you are visiting Adelaide renting a car is a great option to get out and explore all of the gems in the surrounding regions. Google Maps will give you the best route from Adelaide, Clare or others. Location Here
We love this tool for finding the best deal for renting a car. Insider's Tip: Your travel insurance might cover your rental car excess so check before you pay for insurance through the car company.
Tours To Lake Bumbunga
At the time of posting there was unfortunately no tours I could find that include a stop at Lake Bumbunga. There is a chance a tour to the Clare Valley could include this so I will add if I come across any good options in the future. If you are looking for a tour check Viator or Get Your Guide for the latest offerings.
What To Expect When Visiting The Pink Lake Bumbunga
The Lake Is Sometimes Totally Dry!
One of the most intriguing aspects of Lake Bumbunga is that it can sometimes be completely dry! Due to the area's climatic conditions, the lake's water levels can dramatically fluctuate. During the hot summer months, evaporation rates often exceed the water supply, leading to the lake's surface drying out.
But don't be discouraged if you visit during a dry spell. Even when the lake is devoid of water, it still presents a stunning and somewhat surreal landscape. The dried salt lake bed creates a unique, moon-like terrain that is equally photogenic.
Remember, it's this natural variability that adds to Lake Bumbunga's charm and makes every visit a unique experience. But if you are particularly keen on seeing the pink hues at their most vibrant, it's best to plan your visit during the cooler months, when the lake is less likely to be dry.
Accessibility and Parking
Lake Bumbunga is easily accessible by car and there's ample free parking available near the lake's viewing platform. It's a fairly short walk from the parking area to the lake, making it easy for visitors of all ages and fitness levels to reach the lake's edge. Wheelchair access includes the viewpoint but not to the edge of the lake.
Facilities
While there are no facilities directly at the lake, the nearby town of Lochiel offers basic amenities such as public restrooms and a few food options.
Size and Viewing Areas
Lake Bumbunga is quite expansive, covering an area of around 8,000 hectares. There's a viewing platform at the edge of the lake which offers stunning panoramic views, and you're also able to walk along the lake's shoreline. Just remember that the salt flat surface can be quite delicate, so it's important to tread lightly and respect the environment.
What to Bring
Given its remote location, it's a good idea to bring water, snacks, and sun protection with you. It can also get quite windy at the lake, so a windbreaker or a hat might be useful and of course your camera!
Photography
The lake's ethereal beauty makes it a fantastic spot for photography. Whether you're an avid photographer with a DSLR or a casual shooter with a smartphone, you'll find plenty of Instagram-worthy shots at Lake Bumbunga. Just remember to respect the environment while capturing your photos.
Flying A Drone
Lake Bumbunga's expansive salt flats and striking pink hues make it a drone photographer's dream. Capturing aerial views of this otherworldly landscape can result in truly stunning imagery. It's an experience that offers a fresh perspective on the vastness and unique beauty of the lake. Remember, though, to adhere to local regulations and respect the environment and other visitors when flying your drone. A bit of courtesy can go a long way in ensuring that everyone gets to enjoy this remarkable location.
I absolutely loved flying my drone here. The roads that criss-cross through the lake make for an incredbile minimal style image.
Is It Really That Pink?
The pink in my photos has been enhanced in Lightroom so don't be disheartened if the lake appears more white when you visit, it's still a fascinating landscape to explore. I would recommend checking the latest Google Maps reviews on Lake Bumbunga listing to see the most recent photos and advise from visitors.
What is the best time of year to visit?
The ideal time to visit Lake Bumbunga for its spectacular pink hues is typically during the transitional months, that is, from March to May (autumn) or from September to November (spring). These periods offer milder temperatures for visitors, making exploration more comfortable.
Remember, though, that the intensity of the colour can change depending on weather conditions and rainfall. The lake can look different, from vivid pink to white, and sometimes it's a blend of both. There are times when the lake might be totally dry, particularly after prolonged periods of little rain. Prior to your visit, it's advisable to check local weather forecasts or reach out to local visitor information services for updates on the lake's condition. No matter when you visit, Lake Bumbunga's vast landscapes and shifting hues offer a distinctive experience.
The Best Lake Bumbunga Viewpoint

One of the best places to fully appreciate the beauty of Lake Bumbunga is from the main road that skirts its edge. Here, you'll find a small car park and a viewing platform that offers an elevated vantage point. The platform is perfect for panoramic photos, allowing you to capture the vast expanse of pink across the landscape. Just as impressive, though, are the intricate patterns formed by the salt crust up close. The patterns change depending on recent weather, adding an element of uniqueness to each visit
New Loch-Eel Monster at Lochiel – 'Lochie'
During your trip to Lake Bumbunga, don't miss out on meeting 'Lochie', the intriguing cousin of the old Loch-Eel monster. This charming addition to Lochiel's landscape was installed in 2021. The brainchild of local mechanic Wayne Dennis, Lochie is an improved and larger version of the original Loch-Eel monster that had suffered from vandalism over time.
Standing 4m high and 10m long, Lochie has quickly become more than a roadside attraction. This fascinating creature is a symbol of local ingenuity and a testament to the community's dedication to making Lochiel a memorable stop for all visitors. Don't miss out on snapping a photo with Lochie; it's part of the Lake Bumbunga experience!
Conclusion – Lake Bumbunga Pink Lake
Exploring South Australia's Pink Lake Bumbunga is truly a memorable experience, offering visitors a rare glimpse into one of nature's most unique phenomena. As a local, I can assure you that each visit presents a different perspective on the lake's beauty, whether it's glistening pink, turning blue, or fascinatingly dry.
And while you're there, don't forget to say hello to Lochie, the lovable Loch-Eel monster that adds a dash of whimsy to your adventure. Each aspect of your trip – from the scientific wonders behind the pink hue, the best viewing spots, drone photography opportunities, to the quirky local attractions – culminates in a uniquely South Australian experience that you'll want to revisit time and time again.
Want to discover more pink lakes in South Australia? Be sure to check out my guide on other Pink Lakes in South Australia to add more natural wonders to your travel itinerary. Happy adventuring!