Best things to do on Kangaroo Island?
Kangaroo Island is one of the most beautiful places in Australia. It's a remote destination that offers amazing opportunities to explore and witness wildlife, beaches, and unique natural scenery. You can visit Kangaroo Island as a day trip from Adelaide but with so many things to do on Kangaroo Island why not spend a few days exploring this pristine destination.
If you're planning your trip to Kangaroo Island and want some tips on what to do once you arrive at Kangaroo Island, this blog post will help you plan your stay with ideas for things to see and experience. The first step is getting there. Here is all the info you need to get the Ferry to Kangaroo Island.
The Green Adventurers acknowledges and pays respect to the past, present and future Traditional Custodians and Elders of this nation and the continuation of cultural, spiritual and educational practices of Aboriginal and Torres Strait Islander peoples.
Little Sahara KI – Explore the dunes by bike or buggy!
Little Sahara – Whether you love nature or something a little more adventurous you will find it at the dunes. Choose from sandboarding, dune buggy, e-biking or just good old fashioned walking to explore the dunes. The bush near here is home to a huge koala colony so don't forget to look up!
The fat bike tour is fun and educational! This tour will take you through the bush where you will learn about the wildlife and try some bush tucker. After navigating the narrow paths you will reach the dunes where you can enjoy the thrill of riding full speed down the slopes. The bike has extra fat tyres which are perfect for handling the dunes and the electric power gives you a little (or a lot) of assistance peddling up the slopes. ⁠
⁠
We took the after-hours tour which meant the wildlife was more active & we caught a beautiful sunset. ⁠ Check out their website for all you need to know about visiting the dunes.
American River – For nature & history lovers
American River is a peaceful town situated on a still lagoon which has the most amazing reflections on a calm day. Here you'll find places to eat, drink and get a general feel for this small town's relaxed atmosphere. Be sure to visit the Rebuild Independence group who are volunteers building a replica of the first boat ever constructed in South Australia. ⁠
Emu Ridge Eucalyptus Distillery – Don't miss this one!
Emu Ridge Eucalpytus Distillery is a fantastic place to visit and learn how eucalyptus oil is produced as well as the history of Kangaroo Island. There is a free informative video which you can watch from the comfort of this rustic buggy! Check out the distillery in action or visit the gallery and cafe and enjoy coffee, cake, lunch or even a $10 Espresso Martini!
⁠
Emu Bay Lavender Farm
The Emu Bay Lavender Farm is a great place to stop by for a stroll through the rows of lavender. You'll find the farm just off the highway in Emu Bay, so it's easy to pop in on your way through KI. Check out the cafe & shop for some beautiful handmade lavender products. ⁠
Seal Bay Conservation Park – Visit the sea lions in their natural habitat!
Seal Bay Conservation Park – The sea lions bedroom! That's what our guide called the beach that these aquatic mammals call home. This is a permanent colony of around 800 Australian sea lions making it the third largest colony. These fascinating creatures are one of the rarest species in the world and their entire population is estimated to be less than 12,000. ⁠ With a guided tour you can get within metres of these amazing creatures in their natural habitat.
George's Castle
George's Castle – You don't really visit Kangaroo Island for its castles so coming across this quirky construction was quite the surprise! This home turned castle is filled with unicorns, swords and other oddities and proudly has 52,000 lights on display for Christmas. This is definitely one of the most unique things to do on Kangaroo Island. You can visit for a self-guided tour and support George with a donation.
Stokes Bay – A path to paradise
Stokes Bay -Stokes Bay Beach is one of the most beautiful beaches on Kangaroo Island. Getting to the beach at Stokes Bay is something you need to experience! A winding path through a cave of rocks will lead you to a stunning beach with a sheltered rock pool perfect for swimming. t's a secluded spot with amazing views. The beach itself has soft sand and clear blue waters perfect for exploration or just kicking back & relaxing. The campground is a great place to stay or if camping isn't your style try the Waves & Wildlife Cottages have a patio with stunning views over the bay.
Remarkable Rocks – by name and nature!
Remarkable Rocks – One of KI's most iconic sights is the Remarkable Rocks in the Flinders Chase National Park. This huge granite monolith has been eroded over time by wind & water and left some of the most picturesque shapes you'll find anywhere on earth. It's a great stop for anyone who enjoys being surrounded by natural beauty⁠. The scale and location of the formation is impressive with the formation being right on the edge of the coastline with waves crashing below.
Dudley Winery – Relax and unwind!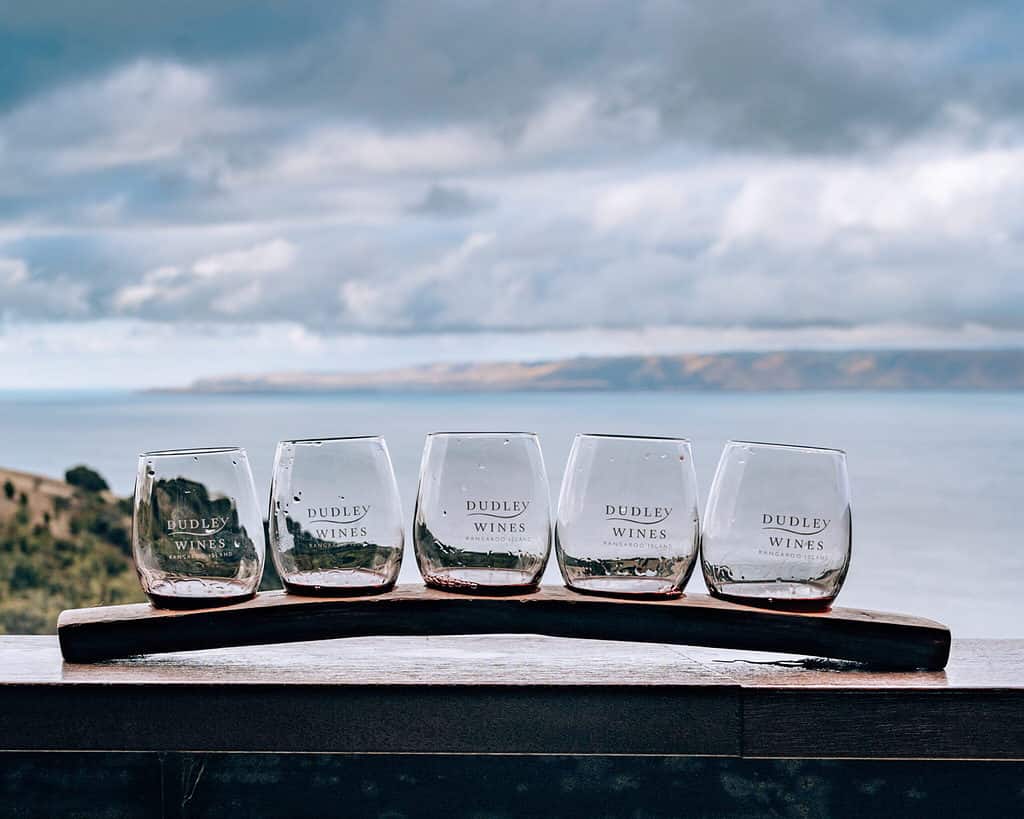 Adventuring is hard work! Dudley Winery is the perfect place to kick back with a glass of wine & a perfect view. If you need a little more excitement grab a bucket of golf balls for $10 and practice teeing off while enjoying one of the best views on the island.
Prospect Hill – Best views of KI!
Prospect Hill– If you're coming to Kangaroo Island for its beautiful landscapes, this is where you'll find them! A tough climb up 500 steps will take you to the top of Prospect Hill where you can enjoy epic 360-degree views of the island. ⁠
Pennington Bay – Surfers delight!
Pennington Bay is another one of the most beautiful beaches on Kangaroo Island. The bay has white sands, clear blue waters and pristine scenery! A popular spot for surfers, you can jump in and catch some waves or enjoy the action from the shore with a long walk along the beach.
Vivonne Bay
At Vivonne Bay you will find spectacular natural rockpools, a surf beach and a large lagoon. The Vivonne Bay General Store is a must stop for all visitors looking to purchase some delicious chippies and other goodies.
Antechamber Bay – River views from a suspension bridge
Antechamber Bay in the Lashmar Conservation Park is one of Kangaroo Island's most beautiful and secluded beaches. The beach is a short walk from the car park, where you can find picnic tables for day use as well as a campground if you fancy a longer stay.
Kingscote – KI's central hub
Kingscote is the largest town on Kangaroo Island. You will find a well-stocked supermarket, plenty of cafes and shops to explore as well as a small colony of sea lions that like to lounge on the jetty. Be sure to fill up on petrol as petrol stations are few and far between on the island.
Kingscote is a great place to stay, being in the centre of the island it's a good spot to be based. The Dragonfly Guesthouse is a budget friendly option, midrange try Kangaroo Island Seaside Inn or if you're travelling with a bigger group check out the 3 bedroom villa at Villas on the Bay.
Cape Willoughby – It's windy!
The windiest place in South Australia is found on the east coast of Kangaroo Island. Cape Willoughby Lighthouse is commonly the coldest and windiest place in South Australia on a particular day. ⁠The weather has been recorded at Cape Willoughby since 1881 with some of the most consistent records anywhere in Australia. Cape Willoughby is a critical station for the prediction of South Australia's weather. ⁠
Salt Lagoon – Dreamy Pastel Pink Lake
Salt Lagoon – I came across this beautiful pink lake by chance. It's not one of the most famous pink lakes of South Australia or even a popular spot for tourists on Kangaroo Island so consider it a hidden gem. You can find this Salt Lagoon just off the North Coast road, about a 10-minute drive from Kingscote.
Flinders Chase National Park – Nature lovers paradise!
The Flinders Chase National Park is an awesome spot for nature lovers! The main attractions are the Remarkable Rocks, Admirals Arch & the Bunker Hill Lookout where you can see the iconic winding road.
The 2019-20 bushfire event on Kangaroo Island was the largest in the island's recorded history. The bushfire burnt most of the western end of the island, including 96 percent of Flinders Chase National Park. ⁠
⁠
Visiting the National Park it was great to see how much the vegetation has recovered. Many native plant species are able to survive fire and regenerate growth. ⁠ Epicormic growth is a term used for the splashes of greenery emerging on woody trees following bushfires.⁠
⁠
Enjoy your trip to Kangaroo Island!
I hope you've enjoyed this tour of Kangaroo Island. Whether you are looking for a relaxing getaway or an adventurous exploration, there is something here to suit your needs. If you want more insight into the natural world and wildlife that awaits on Kangaroo Island, sign up to our mailing list so we can send out some great travel guides with even more inspiration!
Disclosure: Some of the links provided in this blog are affiliate links. I will be paid a commission if you use this link to make a purchase.