Jacaranda Trees Adelaide
Capturing Adelaide in Purple: A Guide to Jacaranda Trees
Hello & welcome to my Jacaranda Trees Adelaide Guide! 💜 November is a sight to behold in Adelaide. The streets come alive with the purple flowers of the jacaranda trees in full bloom. There are thousands of these gorgeous trees sprinkled throughout Adelaide and I have compiled a list of the most beautiful streets for you to enjoy and take photos during Adelaide's most colourful month.
What Is A Jacaranda Tree?
Jacaranda trees are also known as the purple queen or princess tree because of their beautiful purple flowers. They can be found in many places around the world, including South America, Africa, and Australia.
Jacaranda will most often grow to less than 8m tall, although it can reach 12–15m under ideal conditions, taking 20+ years to do so. When they aren't in bloom, jacaranda trees have a green fern-like foliage. As jacarandas are deciduous they briefly drop their leaves in the winter but are soon bursting with colour when spring arrives.
Are jacaranda trees native to Australia?
Jacaranda trees are not native to Australia. These captivating trees with their iconic purple blooms actually originate from South America, primarily Brazil and Argentina. Despite not being indigenous to the Australian landscape, jacarandas have been widely embraced and cultivated, adding a unique, vibrant touch to various cities across the country, especially Adelaide.
Where to see Jacaranda trees in Adelaide?
You can't go far in Adelaide in November without coming across a jacaranda in bloom. The purple flowers dominate the streets; even when they fall, they look like a magical purple carpet. These suburbs are your best bet for seeing and taking photos of the jacaranda trees in Adelaide.
Suburbs A-Z
Adelaide CBD – The City
Wakefield St
Carrington St
Grote Street
Morphett Street
North Terrace –University of Adelaide – Bonython Hall
Blair Athol
Lionel Ave
Clifton St
Leslie Ave
Manuel Ave
Blackforest
Byron Road
Fairmont Avenue
Addison Road
Beulah Park
Clarence Gardens
Narinna Avenue
Chamberlain Avenue
Clovelly Avenue
Leith Avenue
Arthur St
Bideford Avenue
Thomas Street
Clarence Park
George Street
Thames Street
Churchill Avenue
Mills Street
Devon Park
Dulwich
Elizabeth
Midway Road
Fletcher Road
Bellinger Rd
Frewville
Avenue Rd
Main Avenue
Conyngham Street
Fullarton
Fullarton Rd
Fisher Street
Glenside
L'Estrange St
Cator Street
Glenunga
Goodwood
Albert Street
Trevelyan Street
Hawthorn
Hilda terrace
Godden Street
Denning Street
Hyde Park
Hatherley Ave
Warwick Avenue
Macklin Street
Opey Avenue
Leabrook
Knightsbridge Rd
Hazelwood Avenue
Malvern
Austral Terrace
Malvern Avenue
Marlborough St
Clifton Street
Wattle Street
Millswood
Mitcham & Lower Mitcham
Waverly Street
Price Street
Cheviot Ave
Hood Street
The Grove
North Adelaide
Brougham Place
Le Fevre Terrace
Toorak Gardens
Grant Avenue
Ormond Grove
Tranmere
Tusmore
Fisher Street
Northumberland St
Burke Street
Unley
Rugby Street
Marion Street
Cambridge Terrace
Unley Rd
Unley Park
George Street
High Street
Victoria Avenue
Westbourne Park
Monmouth Street
Elmo Avenue
Watt Street
Newberry Avenue
Angus Road
Warwick Street
Constance Street
Sussex Terrace
Woodville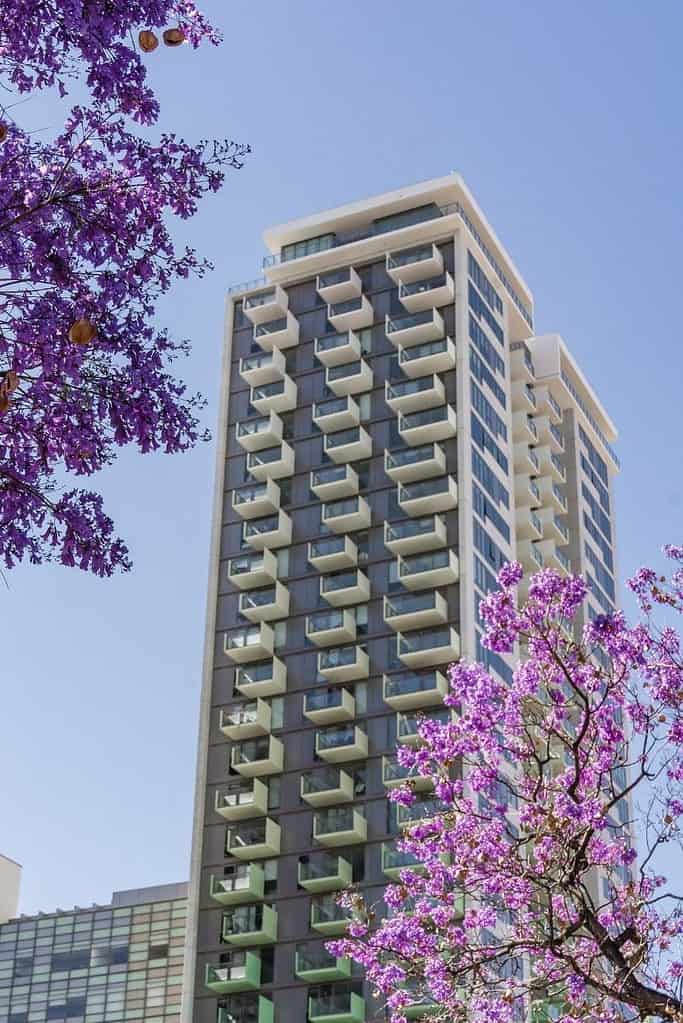 Jacaranda Photography
The photos shown here are by myself – Alice Kuersch, Caty Malo & Shaun McCarthy. Thanks to these amazing local photographers for letting me share their work.
For more great places to take photos in Adelaide see this guide to the Top Adelaide Photography Locations.
Jacaranda FAQ
When do the jacarandas bloom in Adelaide?
The jacaranda trees are in bloom throughout the month of November.
Are jacarandas native to Australia?
No, they are native to South America – Brazil & Argentina.
Where do jacaranda trees grow in Australia?
Adelaide has many as well as Brisbane, Sydney, Perth & Melbourne & Grafton in NSW even has a jacaranda festival!
Do jacaranda trees attract birds?
Yes, an array of birds including the honeyeater are very fond of the jacaranda flowers.
Do jacaranda trees attract bees?
Yes! Bees love the purple flowers and the nectar they contain. Be careful with pets & children around the trees when they are in bloom because they may disturb a bee!
Thanks & Enjoy
I hope this guide will help you enjoy Adelaide's most colourful month MAUVEember 💜 I will update this post with more photos once the season starts. Can't wait!
If you have any suggestions to add please let me know and I will update the post. I would love to see the photos you take too so please say hi on socials or email [email protected]