Eyre Peninsula Beaches
The Eyre Peninsula stretches from the top of the Spencer Gulf to Denial Bay where the Nullarbor begins. The landscape of the EP is dramatic & beautiful and home to many animals, birds & marine life. Along the coast, you will find steep cliffs, geological formations & some of the best beaches in Australia. Here are my top recommendations for the Eyre Peninsula beaches you have to visit.
The Green Adventurers acknowledges and pays respect to the past, present and future Traditional Custodians and Elders of this nation and the continuation of cultural, spiritual and educational practices of Aboriginal and Torres Strait Islander peoples.
Almonta Beach – Coffin Bay National Park
Almonta Beach is the most pristine beach I have ever laid eyes on . This beauty can be found in the Coffin Bay National Park. Coffin Bay is a popular destination for Eyre Peninsula activities with the Oyster Farm tours being a very popular choice for visitors. Oysters are really not my thing so I skipped that and headed straight to the National Park. A lot of the roads within the park are 4 wheel drive only but the road to Almonta Beach is all bitumen so it's easy to access for all vehicles. Coffin Bay National Park entry can be booked through the National Parks & Wildlife Service. The $11 per vehicle fee helps pay for the conservation efforts and upgrading park infrastructure. You can also book a camp site if you want to spend a night in this idyllic location.
Engine Point Campground Beach, Port Lincoln National Park
Port Lincoln National Park is my top recommendation for Eyre Peninsula camping. There are 14 campsites available to book through National Parks and Wildlife Service and the fee includes park entry. My campsite pick was September Beach for 2WD access, toilets, picnic tables, fire pits & shaded well-spaced sites. From September Beach you can take the Donington loop a 6.2km hike that will take you past Donington Point through to Engine Point Beach. This beach was very calm and sheltered and the water was crystal clear.
Granite's, Streaky Bay⁠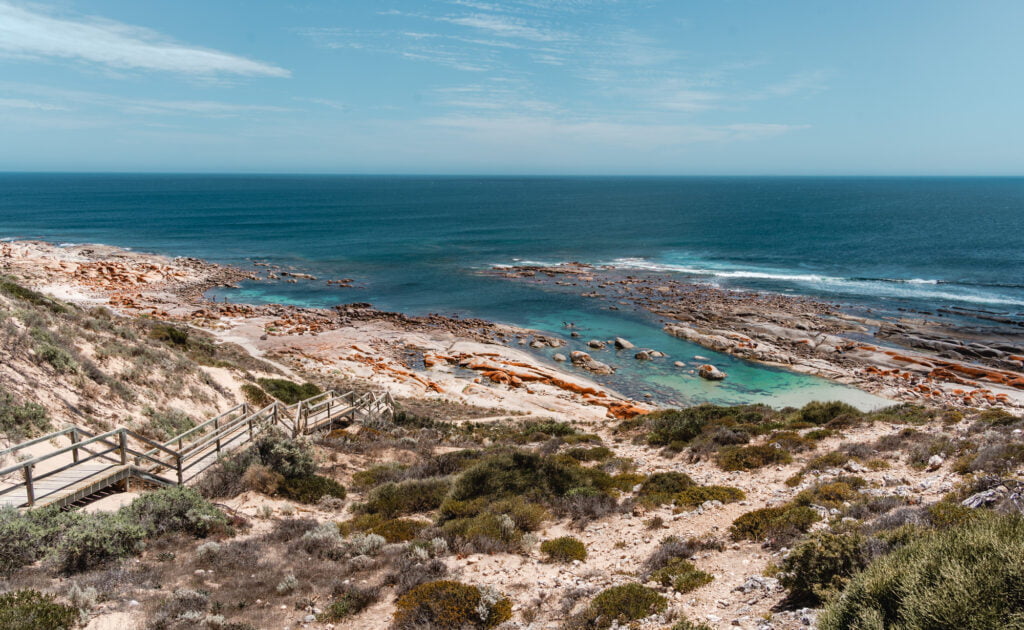 Streaky Bay is a fantastic place to head on an Eyre Peninsula road trip. There are 3 coastal scenic drives to explore including the Westall Way Loop which will bring you to Granite's which is a granite rock shelf which provides shelter from the rough waves. This is a perfect place for beginner swimmers and kids to enjoy the shallow pools.
Greenly Beach, Coulta
Greenly Beach is found between Port Lincoln and Elliston and the rock pools are one of the best Eyre Peninsula attractions. Head to Coles Point for a view back to the gorgeous sandy beach & mountains behind. A worn-out corrugated road will take you to the rock pools which are the perfect place for a dip on a hot summer's day.
Walker's Rocks, Elliston⁠
Elliston is a small but charming town on the Eyre Peninsula. There is no shortage of sights to see in this area but one of my favourites was Walkers Rocks. This calm beach was a popular spot for tourists and locals including a pod of dolphins just off shore. I highly recommend spending at least a couple of nights in Elliston. The Waterloo Bay Tourist Park was one of my favourite Eyre Peninsula caravan parks and is the perfect place to base yourself when exploring the area.
Locks Well, Elliston⁠
You will find Locks Well a 20-minute drive from Elliston. A wooden viewing platform provides panoramic views of the cliffs & beach below. 283 wooden steps will take you down to the beach which is lined with 60-metre-high cliffs that provide shade on a hot day. Unfortunately due to strong currents, it is not safe to swim here but it would make the perfect place for a picnic.
Enjoy the Eyre Peninsula beaches!
I hope you enjoy your Eyre Peninsula adventure. If you have any questions feel free to get in touch via email or my socials.
Want more beaches? See the top beaches in South Australia.
Disclosure: Some of the links provided in this blog are affiliate links. I will be paid a commission if you use this link to make a purchase.