Top 16 Beaches in South Australia
The beaches of South Australia offer visitors a wide range of experiences, from surfing to fishing to relaxing on the sand. Here are the most popular spots for beach lovers.
The Green Adventurers acknowledge and pay respect to the Kaurna people as the custodians of the lands and waters of the Adelaide region. We pay respect to elders both past, present future Traditional Custodians and Elders of this nation and the continuation of cultural, spiritual and educational practices of Aboriginal and Torres Strait Islander peoples. We acknowledge and respect the Kaurna people's cultural, spiritual, physical and emotional connection with their land, waters and community.
This post may contain affiliate links. Read our disclaimer.
Southport Beach – Port Noarlunga
Southport Beach is one of the most iconic South Australian beaches. The wooden stairway leads from the Onkaparinga River viewpoint to where the Onkaparinga River meets the ocean. To reach Southport Beach you can wade through the shallows or use the Onkaparinga River Bridge.
In The Area – Port Noarlunga
Where To Eat – The Seaford Tavern – One of my favourite vegan-friendly pubs in Adelaide
Where To Stay – Coast Motel & Apartments or Mcloud House
Almonta Beach – Coffin Bay National Park
Almonta Beach in the Coffin Bay National Park is pure perfection. White sand with turquoise waters makes this the perfect place to spend a summer's day on the Eyre Peninsula. The EP waters can be quite chilly so there is a small window in the summer when swimming here will be absolutely divine.
In The Area – Coffin Bay
Where To Eat – Coffin Bay dining is focused on oysters so vegan options are sparse but don't miss The Ethical Kitchen in Port Lincoln
Where To Stay – Almonta Apartments, Almonta Park Lodge or The Beach House
Sellicks Beach – Fleurieu Peninsula
The best drive on beach in SA! Sellicks Beach is the perfect place to set up on a warm summer's day. The rock shelf under the sand makes this safe to drive on even for 2WD vehicles. My Ford Focus had no trouble at all.
Beach access ramps may be monitored during December and March each year. Cars can only access the beach if drivers show a current beach permit or pay the vehicle access fee of $8. The City of Onkaparinga website has all the info.
In The Area – Fleurieu Peninsula
There is so much to explore in this region that it deserves its dedicated post!
Check out 23 Things To Do On The Fleurieu Peninsula
Port Willunga – Fleurieu Peninsula
Port Willunga has to be one of the most beautiful Adelaide beaches. The cliffs are made up of layers of vibrant red, orange, yellow and white and tell the story of millions of years of geological history. Gull Rock is a must-see feature, as well as the series of caves that have been carved into the rock. Originally they were used by fishermen to store their boats and fishing rods but now make a great place to escape the heat and have a picnic.
The most eye-catching feature at Port Willunga is the remains of a jetty that pokes out from the waves. The jetty was originally constructed in 1853 when this area was one of the busiest ports in the colony of South Australia exporting wheat and other produce. The jetty was extended in the 1860s and the pylons that can be seen today are from this secondary build. You can't go far on Instagram without seeing this iconic Adelaide beach so don't miss this one!
Second Valley – Fleurieu Peninsula
Second Valley is the perfect place to spend your summer days. The rock formations are spectacular and create a sheltered area perfect for a dip on a hot day.
In The Area – Second Valley
If you are travelling from Adelaide a stop at the Yankalilla Bakery on the way is a must! This bakery has plenty of vegan goodies like donuts and pasties.
Engine Point – Port Lincoln National Park
The Lincoln National Park is the true definition of paradise. This is a haven for wildlife and marine life and you can immerse yourself in nature by camping in the park. There are 14 campsites but the Engine Point Campground is my top pick with the most beautiful calm beach with crystal clear water.
In The Area – Eyre Peninsula
Where To Eat – Port Lincoln has some great vegan options – Beer Garden Brewing, Ethical Kitchen & The Rogue & Rascal
Where To Stay – Port Lincoln YHA, Port Lincoln Hotel or The Marina Hotel
Greenley Beach – Eyre Peninsula
One of the best things about the Eyre Peninsula is the rock pools. Greenly Beach is found between Port Lincoln and Elliston and the rock pools are one of the best Eyre Peninsula attractions.
Head to Coles Point for a view back to the gorgeous sandy beach & mountains behind. A worn-out corrugated road will take you to the rock pools which are the perfect place for a dip on a hot summer's day.
Horseshoe Bay – Port Elliot
Is there any better way to spend a summer's day than boogie boarding at Horseshoe Bay? This gorgeous beach at Port Elliot is a hive of activity with people flocking to the infamous Port Elliot bakery. The walking trail along the granite rocks is another great way to take in the beautiful scenery if you don't fancy a dip.
In The Area – Port Elliot
Where To Stay –YHA Port Elliot – My favourite hostel in South Australia!
Where To Eat – Nino's Victor Harbor, Port Elliot Bakery
Best Coffee – De Groot Coffe Co
Pennington Bay – Kangaroo Island
A popular spot for surfing, Pennington Bay is one of KI's many pristine beaches. The white sand and perfectly turquoise waters are a sight to behold. Take a picnic and enjoy one of the best beaches in South Australia.
Stokes Bay – Kangaroo Island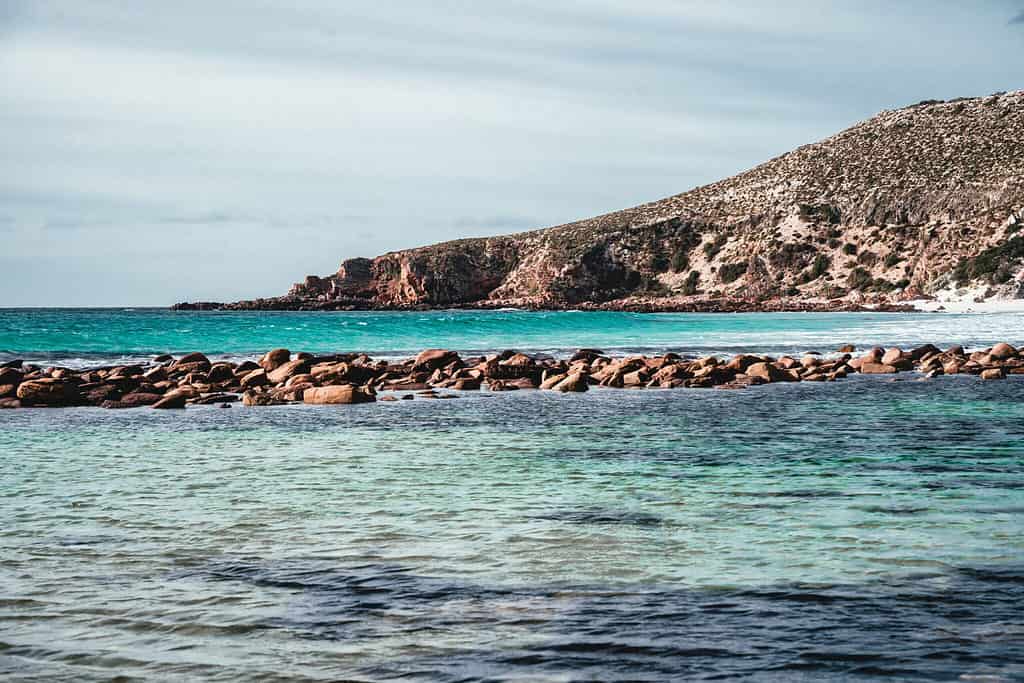 Stokes Bay beach is one of the most beautiful beaches on Kangaroo Island. Getting to the beach at Stokes Bay is something you need to experience! A winding path through a cave of rocks will lead you to a stunning beach with a sheltered rock pool perfect for swimming. The beach itself has soft sand and clear blue waters perfect for exploration or just kicking back & relaxing.
In The Area – Kangaroo Island
Best Things To Do On Kangaroo Island? Discover the top 17 things to do on KI.
Where To Stay – The Stokes Bay campground is a great place to stay or if camping isn't your style try the Waves & Wildlife Cottages have a patio with stunning views over the bay.
Blowhole Beach – Deep Creek
Deep Creek National Park is one of South Australia's most beautiful national parks. This protected area is the largest portion of remaining natural vegetation on the Fleurieu Peninsula which provides habitat for native animals such as western grey kangaroos, short-beaked echidnas and 100 species of birds.
You can visit Deep Creek as a daytrip from Adelaide but there are also 5 campgrounds – 4 accessible by 2WD and one is hike in. There are 15 walking trails of varying difficulty. The Deep Creek circuit is a grade 4 hike and although it's only 12km due to the serious incline in sections expect to take up to 7 hours.
The hike to Blowhole Beach is less strenuous but still a bit of a challenge on the way back up! Be prepared with lots of water and snacks and enjoy some of the best views in South Australia.
Henley Beach – Adelaide
Henley Beach is definitely one of the best beaches in Adelaide. This iconic location offers visitors a beautiful sandy beach with a picturesque jetty jutting out from the atmospheric Henley Square.
With a water fountain play area for kids as well as a great choice of dining options, Henley Square offers entertainment for all ages. Check out Coco Cacao for awesome coffee and vegan sweet treats.
The relaxed vibe and superb public facilities make Henley a family-friendly destination but it also comes alive at night when the music starts pumping at the Ramsgate Hotel.
The Granites – Streaky Bay
Streaky Bay is a fantastic place to head on an Eyre Peninsula road trip. There are 3 coastal scenic drives to explore including the Westall Way Loop which will bring you to Granite's which is a granite rock shelf which provides shelter from the rough waves. This is a perfect place for beginner swimmers and kids to enjoy the shallow pools.
Walkers Rocks – Eyre Peninsula
Elliston is a small but charming town on the Eyre Peninsula. There is no shortage of sights to see in this area but one of my favourites was Walkers Rocks. This calm beach was a popular spot for tourists and locals including a pod of dolphins just offshore.
In The Area – Elliston
I highly recommend spending at least a couple of nights in Elliston. The Waterloo Bay Tourist Park is one of my favourite Eyre Peninsula caravan parks and is the perfect place to base yourself when exploring the area.
Rapid Bay – Fleurieu Peninsula
Rapid Bay is a great place to go exploring. With a cave to investigate, historical buildings and two jetties, this quaint little seaside town is well worth a visit. A stay at the campground is budget-friendly but does fill up quickly in the summer months. To book please contact via phoning or texting on these numbers: Reena – 0418833653 or Wayne – 0478117661
Glenelg – Adelaide
On the sandy shores of Holdfast Bay, you will find Glenelg, Adelaide's most popular city beach. With its beautiful foreshore and lively atmosphere, Glenelg Beach is where the action is.
Take a stroll down the lively Jetty Road which is filled with boutique shops and restaurants to suit all tastes. Try Good Slice for organic pizza made with flavoursome South Australian ingredients. Kids will enjoy the playground on the foreshore, the Ferris wheel and the Beach House which is packed with arcade games, mini-golf, rides and waterslides. Get out on the water with a Twilight Coast Sightseeing Cruise or Dolphin Cruise both departing from Glenelg.
The most lively Adelaide beach, there is plenty of entertainment for the adults at Glenelg with bars such as The Grand, The Moseley and Jetty Bar coming alive for sunset or a Sunday sesh.
A top choice for visitors to Adelaide, Glenelg has many accommodation options. Opt for 5-star luxury at the Stamford Grand or for a budget-friendly option try the Glenelg Motel.
Glenelg is a fantastic place to relax, swim & explore and enjoy South Australia's gorgeous coastline. Jump on the tram in the CBD and you'll reach Glenelg in just 25 minutes.
Which Is Your Favourite South Australian Beach?
There is no denying that South Australia has some absolutely epic beaches and possibly the best in the world! What do you think? Please let me know if your favourite is missing from the list, I'm not opposed to doing more "research"! ?